Customer service complaints are probably not anything new to many of us as many of us have worked in customer service at some time or still do.
And that means most of us have had to deal with an incredibly unpleasant customer.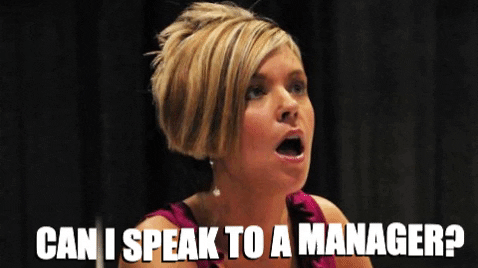 Whether they complained about something totally ridiculous or insulted you for no reason whatsoever, the old adage "the customer is always right" is not always right. In fact, the customer sometimes breaks your spirit and makes you a bitter, depressed husk of a human being.
Twitter user @keally22 started a now-viral thread about customer service complaints and experiences that totally decimated the workers' spirits.
She then followed with a different story:
But, rejoice! There are many of us out there, sharing those customer experiences that broke us. Take comfort in the numbers.
---
1.
A woman called me a c*nt when I worked at Edible Arrangements because her daughters arrangement came in a lime green plastic martini glass (the site doesn't let you pick the container color), I ruined her daughters birthday because "what girl likes green?!"

— aslan zebra (@zyblets) November 15, 2020
2.
When covid first started, I had a customer repeat the tone of everything I said back to me with obnoxious noises bc he said that's what I sounded like with my mask on. He didn't even listen to me & made me repeat it all once he got bored of making fun of me

— Lindy Fraker (@lindy_fraker) November 14, 2020
3.
Not a complaint at me but I was doing the small talk at my register and tried to relate to a woman who said she was stressed out and she said, "I'm stressed out because I'm important. I'm not just some cashier." It was years ago and I've never forgotten how small I felt.

— Kimberly W. (@kimberlysarah16) November 14, 2020
4.
I got REAMED OUT by a woman who tried to return a wireless headset, SWEARING that it came broken. she finally produced a receipt and not only did she not buy it at our store, she bought it from a completely different company in a different state. And she STILL demanded a refund

— Max 🦃 Ash (@mynameisntdave) November 15, 2020
5.
Also, my (only) greatest comeback was when a man wanted Christmas cookies NOW even though I explained they need to be baked, decorated, and left to overnight to dry. He told me "money can buy anything." I told him, "money can't alter the time-space continuum."

— Meaghan Mountford (@DecoratedCookie) November 14, 2020
6.
mine was in the drive thru guy orders a combo i cut him off to ask "beef chicken or steak" he goes "don't you fucking interrupt me" manager made immediate eye contact w me, saw me tearing up and took over while i cried over the dishes lmaooooo it was so small but a terrible day

— CapriCornyCait♑️ (@CapriCornyCait) November 14, 2020
7.
one day i burst into tears bc a lady called me a dumb bitch bc we charged for large waters😎 then my manager just sent me home after

— hancake (@bowserstanacct) November 14, 2020
8.
A customer ordered a milkshake. It "wasn't cold enough" so we tell her we'll get her a new one but we just go pour the same one in a new glass, put a new straw and new garnish and bring it back and she goes "much better, this is how a milkshake should be"

— Samara (@samgo98) November 15, 2020
9.
a lady got mad at me for working self checkout and not "doing my job" by being on the registers. i hadn't even said a word she just started yelling at me to get on a register and do my job. which i was. at self checkout

— Josh Wahab (@Josh_Wahab) November 14, 2020
10.
1/One time at mcdonalds, a woman asked for a plain cheeseburger, so I made a plain cheeseburger. She ended up sending it back like 5 times before it got back to the kitchen that she screamed at out cashier that she wanted a cheeseburger w/o cheese. Fought w my bro abt how it

— Charlie Griffin (@fcgriff_) November 14, 2020