The 55th Super Bowl is underway. Funny people on Twitter who love sports, hate sports, or are indifferent and want an excuse to drink and watch ads (me) are posting jokes. The Super Bowl of 2021 will not soon be forgotten.
In case you hadn't heard, the Tampa Bay Buccaneers and the Kansas City Chiefs are playing each other in the last football game of the year. Well, until August when this all starts up again. The Kansas City Chiefs are the returning champions from last year, but Tom Brady, no stranger to Super Bowl games, is playing for Tampa. The teams are playing in Florida where literally everything is legal, despite the global pandemic.
Meanwhile, the NFL hired poet laureate Amanda Gorman to read a poem about nurses, there was a hologram of Vince Lombardi, and the stands are full of people. There's a lot to joke about.
Here are the funniest tweets about the 2021 Super Bowl so far:
---
1.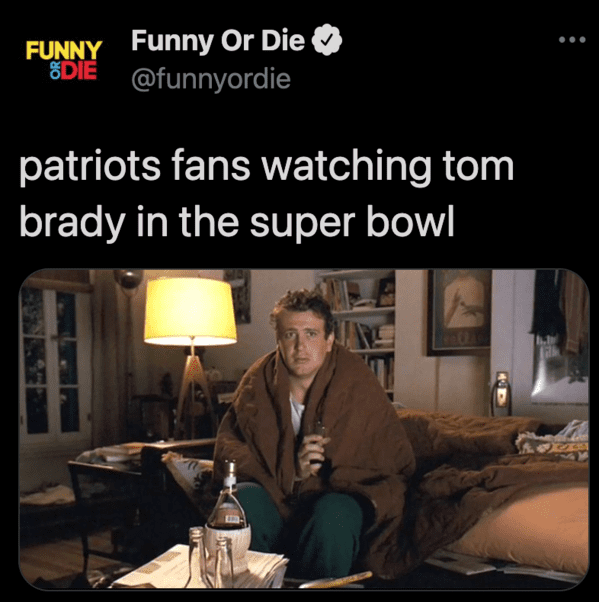 2.
3.
They just said this Super Bowl matchup is "unprecedented." Yes. Never before in the history of football has a game that happens every year ever happened.

— Dan Wilbur (@DanWilbur) February 7, 2021
4.
A pandemic will not stop grown men from giving each other brain damage. This is America.

— Mike Birbiglia (@birbigs) February 8, 2021
5.
every year the brands try to recapture the magic of "wazzzzzapppp!!" and fail miserably

— america's lounge singer (@KrangTNelson) February 8, 2021
6.
Every commercial trying to convince us that there is hope, that we can escape from the current unpleasantness of our existence, and yet the moment it's over, we cut back to Tom Brady playing in a tenth Super Bowl.

— Norm Charlatan (@normcharlatan) February 8, 2021
7.
There's a 100% chance my mom is wondering why Neil deGrasse Tyson is singing right now.

— Miles Kahn (@mileskahn) February 8, 2021
8.
This Super Bowl looks like if on the Truman Show, they had a storyline where Jim Carrey won tickets to the big game and this is the tiny football stadium set they built on the island to fool him

— Mike Drucker (@MikeDrucker) February 7, 2021
9.
A lot of people don't know this, but if Tom Brady doesn't win a Super Bowl every 5 years, he immediately ages into a skeleton like the guy at the end of Indiana Jones

— Chase Mitchell (@ChaseMit) February 8, 2021
10.
I can't believe how emotionally manipulative this year's Super Bowl commercials are. Did you see the one where a group of friends ate dinner at a restaurant? You can't show that to us during a pandemic.

— Josh Gondelman (@joshgondelman) February 8, 2021
11.
happy Trader Joe's frozen appetizer day to those who observe

— Marc (@MarcSnetiker) February 7, 2021
12.
me trying to follow the hostess to my table at the Cheesecake Factory pic.twitter.com/mhB6LKCIiF

— Conor Ryan (@ConorRyan_93) February 8, 2021
13.
Glad to see the kid from Us dancing during the #PepsiHalftime show pic.twitter.com/vTZG4ZAIst

— Blake Hammond (@BigRadMachine) February 8, 2021
14.
If Florida win this #SuperBowl COVID will never be over.

— CORINNE FISHER (@PhilanthropyGal) February 8, 2021
15.
Next year's halftime show should just be that thing where a podcast does a live show

— billy eichner (@billyeichner) February 8, 2021
16.
Me after *one* alcoholic drink: pic.twitter.com/HoAqGDwc0n

— Ryan Black (@RyanABlack) February 8, 2021
17.
— Marx Gasol (@socialistraptor) February 8, 2021
18.
If Tom Brady wins, his dad, a powerful land developer, is going to tear down the community center and build a golf course.

— Brian Boone (@brianbooone) February 8, 2021
19.
Me at 1AM trying to use the video intercom at my friends apartment pic.twitter.com/48BVdBcWfV

— Jason O. Gilbert (@gilbertjasono) February 8, 2021
20.
If Gronk gets MVP and The Weeknd has a good halftime show then the true winner of this Super Bowl will be the cocaine dealers of Tampa

— Jason O. Gilbert (@gilbertjasono) February 8, 2021
21.
this game pic.twitter.com/58XJLpgUMm

— Shea Serrano (@SheaSerrano) February 8, 2021