I always cry during the "In Memoriam" segment at the Oscars. All those editors whose names we never actually cared to learn! Unfortunately, most of us will die in obscurity. However, some names live on for eternity and wind up as part of a funny Twitter meme where people offer their condolences to famous people who would have loved the here and now. These "RIP _____, you would have loved ______" memes should replace a few tombstone epitaphs.
If you love jokes about history, celebrities, and obscure fictional characters, have you come to the right place. I live for days like this. Days where we all think of a fun way to cleverly tell people "I know three things about famous people." Yes, it's a nerdy joke, but some of them really made me laugh.
Here are the funniest "RIP/You Would've Loved" tweets about famous people:
---
1.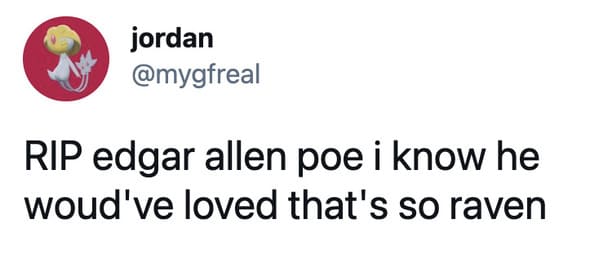 2.

3.

4.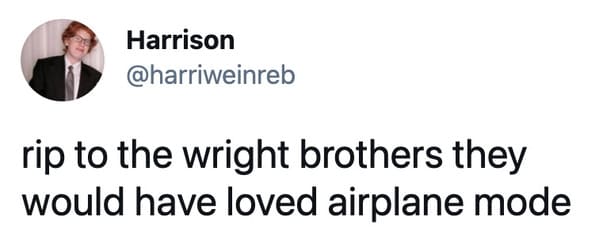 5.
rip nikola tesla he would've hated elon musk

— jack?!? (@takeiteasyjack) March 23, 2021
6.
RIP my childhood dog u would've loved to know I'm the one wearing a collar and leash now

— Nikita Redkar (@nikitadumptruck) March 24, 2021
7.
RIP Karl Marx would've loved Thrift Shop by Macklemore

— nick (@24framesofnick) March 24, 2021
8.
RIP Narcissus you would have loved having a disorder named after you

— Village Person (@SvnSxty) March 23, 2021
9.
rip f scott fitzgerald you would've loved lorde's song green light

— ˗ˏˋ ryn ˎˊ˗ (@onlineryn) March 24, 2021
10.
rip marie curie you would've loved my chemical romance

— alfie (@ieroist) March 24, 2021
11.
RIP king henry VIII i know you would've loved tinder

— muso moon says revolution (@musomoon) March 23, 2021
12.
Rip Ronald Reagan I know you would've loved watching the government let 500k people die

— the warehouse guy (@LicensedT0Ill) March 24, 2021
13.
RIP Abraham Lincoln. You would have loved Wellbutrin.

— Dan Wilbur (@DanWilbur) March 25, 2021
14.
RIP Shakespeare you would have loved She's The Man

— Marc (@MarcSnetiker) March 24, 2021
15.
Rip Icarus, he would have loved Red Bull

— Classical Studies Memes for Hellenistic Teens (@CSMFHT) March 24, 2021