The problem with plans is that they're rarely for the day you made them. How I feel about going out changes on a
minute by minute basis
. Also, I probably only agreed to hanging out because I have trouble saying no and want you to like me. So when I get that magical text from someone saying they have to cancel plans, the wave of
relief that washes over me
is so warm and rich you could spread it on toast. For all of my people out there who feel the same,
these jokes are for you
.
1.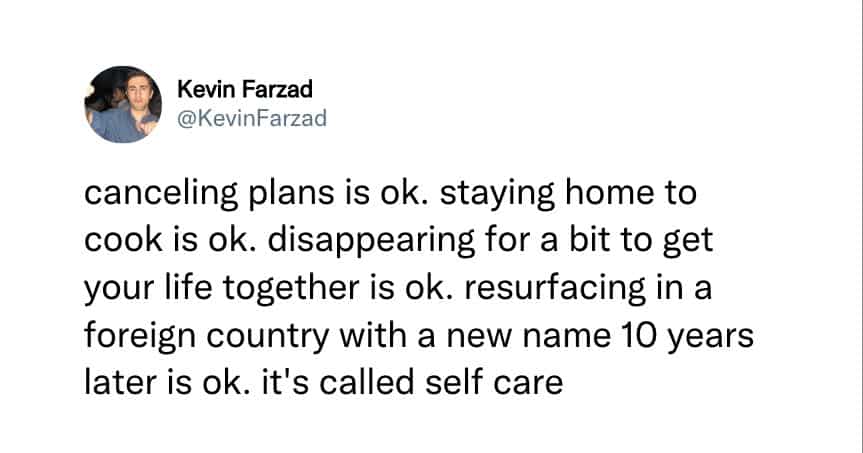 2.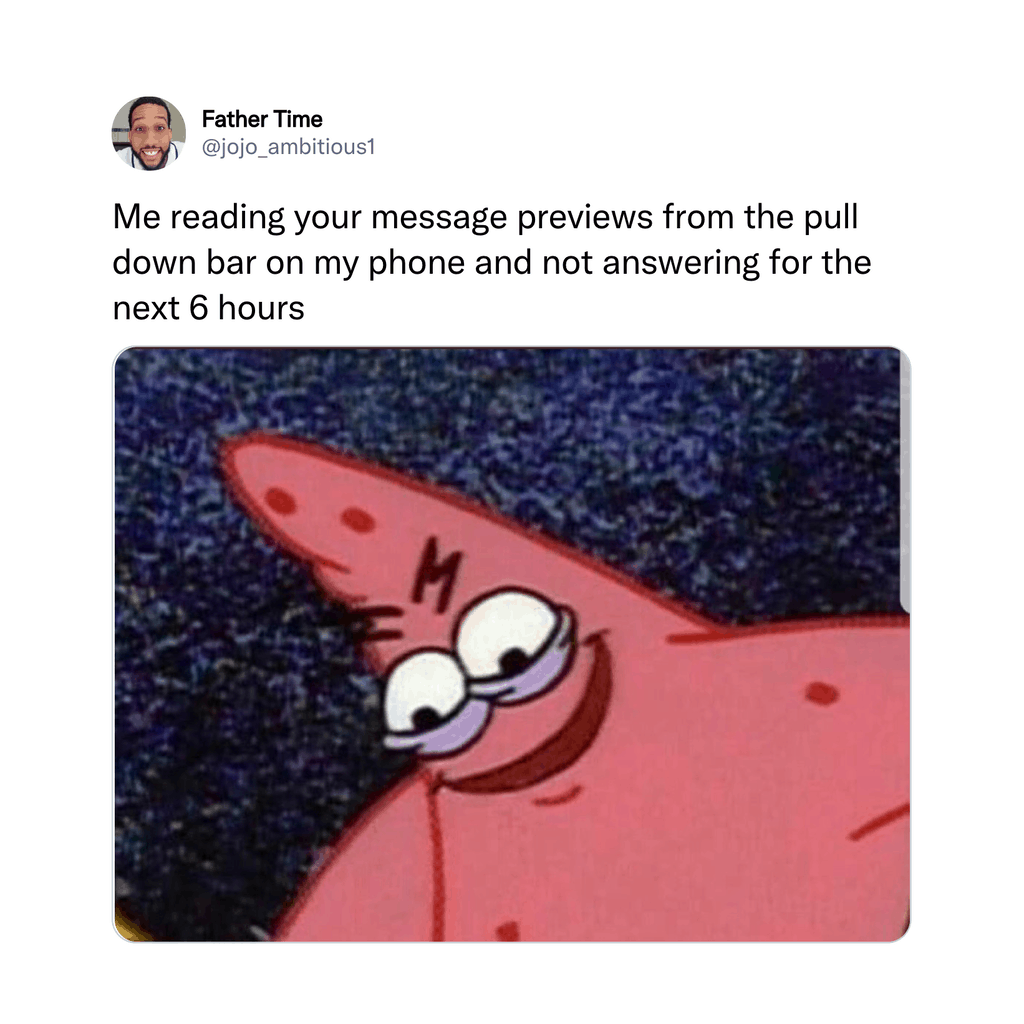 3.
4.
Just so we're clear, The Grinch never really hated Christmas. He hated people, which is fair.

— Migos, from the Offset (@random_weighs) November 25, 2017
5.
me: i wish i had friends:-/
someone: hey
me:
me: …..wtf that was weird anyways i wish i had friends

— 🧸 (@frogonarock) February 6, 2018
6.
When you agreed to go out and the time to go out is getting closer pic.twitter.com/hefLJdoJds

— Water T (@kevenchy_) October 10, 2017
7.
when someone asks me why i can't hang out pic.twitter.com/7o7yLsAY1I

— Amber Discko (@amberdiscko) September 7, 2015
8.
me: the world is such a wonderful place bro i just want to travel and go on adventures forever

also me: pic.twitter.com/6kLg4BOL3i

— one of ur hoes (@miliondollameat) February 13, 2017
9.
my parents, at 27: married, with a kid

me, at 27: i prefer ordering pizza Online so i don't have to ever interact with a human person

— Alex Manley (@alex_icon) August 24, 2016
10.
person: u should try to make more friends

me: pic.twitter.com/ksOLY3U8df

— one of ur hoes (@miliondollameat) February 2, 2017
11.
Wyd tonight ?
Wyd Tomorrow ?
Why you not texting back ?
Me : pic.twitter.com/U3bpjJYEgI

— OALIKA. (@OalikaLovesLyn) January 22, 2017
12.
When someone is making plans you have no intention of going to, so you add "what time?" For decoration
https://t.co/PwAJ3HhrNO

— melato (@melato___) January 7, 2017
13.
"This is a mistake"

-I whisper as I leave my house

— Swishergirl (@Swishergirl24) March 21, 2014
14.
me looking @ the 0 notifications im receiving cause i've isolated myself & ruined all my relationships with my friends, family, and partners pic.twitter.com/s1wVV8Sh1v

— visenya (@noraials) March 12, 2017
15.
*takes a deep breath, smiles*
"what a beautiful morning to pretend to read tweets in an effort to avoid any semblance of human interaction"

— Daniel Strauss (@danielstrauss) January 13, 2016
16.
Introvert probz pic.twitter.com/vh9D3MyfT9

— gianna (@gee_face) January 11, 2016
17.
Co-Worker: Plans this weekend?
Me: Video games and Reading.
Co-Worker: Wanna do something?
Me: I just told you, I have plans.#introvertlife

— Jes (@kitkatonic) December 26, 2015
18.
Introvert at a party starter pack pic.twitter.com/uA4yFzg2DL

— Chris Heilmann (@codepo8) September 11, 2015
19.
Dinner plans: $20
Movie: $12
Night at the bar: $30
Canceling all the above plans before they ever happen: priceless

— Introvert Life (@IntrovertLiving) August 4, 2015
20.
I hate to cancel. I know we made plans to get together tonight but that was two hours ago. I was younger then, and full of hope.

— Marly (@VerbsRProudest) October 3, 2014
21.
FRIEND: do u want to hang out this weekend
ME: generic excuse
FRIEND: did u just say "generic excuse"

— Bob Vulfov (@bobvulfov) February 10, 2016
22.
September 24, 2015