I love TV. I love it more than most people. I wish I were lying. Mostly, I think we were lied to as kids. TV helped us learn and experience new things virtually. Did it make us all fatter? Probably. Did it give us depression? Absolutely. But there are pills for both these issues.
The Golden Age of Television did not end when The Sopranos went off the air. It won't be over any time soon.
The showrunner for the new Gremlins series on HBO Max, Tze Chun, had a simple question. What moment of TV changed your perception of what TV could do?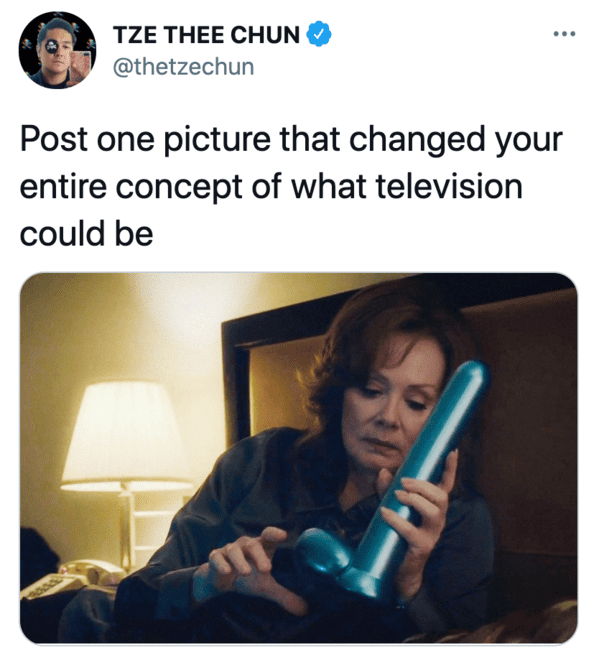 He says this moment from The Watchmen.
Twitter TV fans had a lot to say. Some of the answers were a bit cryptic, so I took the time to label them for you. Do not be mad if I spoil something for you. You should have already watched Game of Thrones for crying out loud.
Here are the best moments of TV people on Twitter claim changed their idea about what television could be:
---
1. Game of Thrones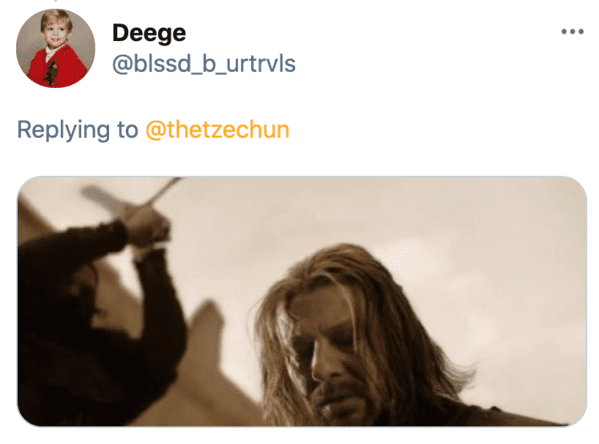 2. Buffy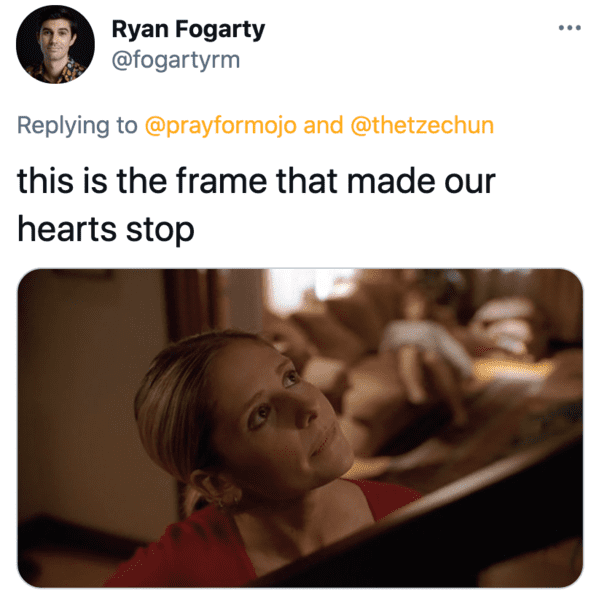 3. Threads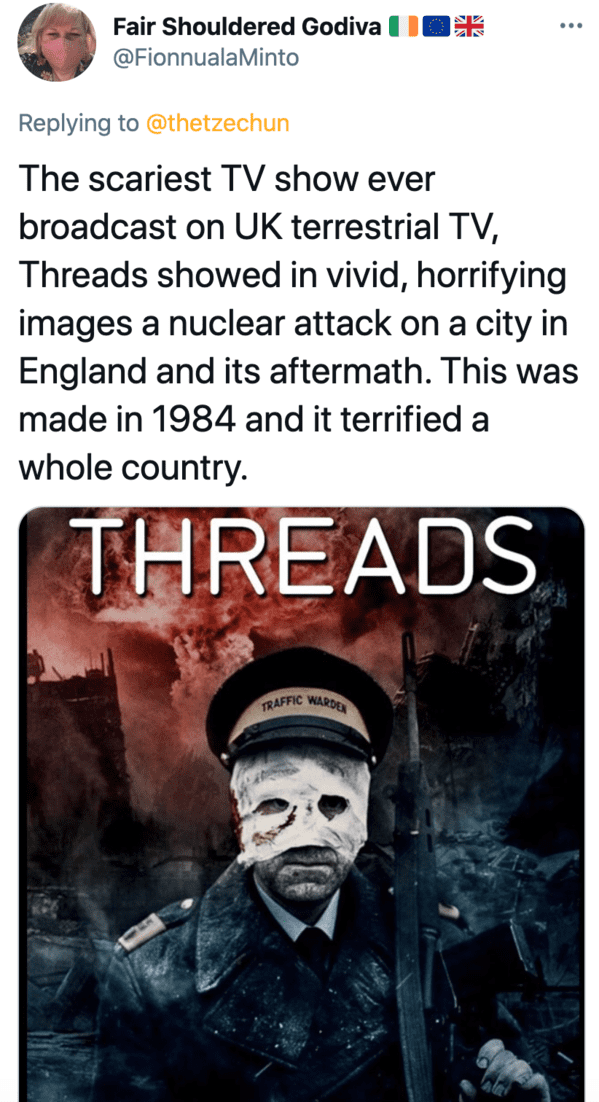 4. The Good Place
I do not think I have ever seen a tv show that advertised itself as a show about one thing for over a year, and was lying about it, for maximum impact. It was less of a "plot twist" and more of a concentrated disinformation campaign and it was BRILLIANT. pic.twitter.com/03hRvXB30X

— Kayla Ancrum✨ON DEADLINE✨ (@KaylaAncrum) January 27, 2021
5. Weeds
ANDY: Hey, Lupita, settle an argument for us. What do you call the thing between the dick and the asshole?
LUPITA: The coffee table. pic.twitter.com/SgRVFZWYOQ

— 𝙿𝚎𝚝𝚎𝚛 𝚁. 𝙵𝚎𝚞𝚌𝚑𝚝𝚠𝚊𝚗𝚐𝚎𝚛 (@prex4) January 27, 2021
6. Six Feet Under
Finale of Six Feet Under changed how moving the end of a series could be. pic.twitter.com/a4mQLJSXxc

— Mandy Mueller (@ThatLushMandy) January 27, 2021
7. Fleabag
The exact moment of this scene when Phoebe Waller-Bridge broke the fourth wall pic.twitter.com/N5sXpBZ4i1

— Honestly, M (@honestly_m_) January 27, 2021
8. Black Mirror
Couldn't believe they'd go through with it. pic.twitter.com/NkYCVBOD6w

— Mr Meh. (@MyLovelyCrocs) January 28, 2021
9. Futurama
Jurassic Bark, Futurama S4E7
I can't revisit this episode but I love Futurama so so much. pic.twitter.com/6tlGXR0MwG

— Schrödinger's Snapchat (@JerbearFreeman) January 27, 2021
10. Euphoria
the entirety of the euphoria carnival episode, it's my favorite work of television i have ever seen mainly for the shot sequences even when sober i feel high watching it https://t.co/ec18r7hfrP pic.twitter.com/zQjjAQjzXe

— ༺𝔞༻ 𝔱𝔥𝔢 𝔯𝔢-𝔲𝔭 (@gothjafar) January 28, 2021
11. Sopranos
One of many choices for this https://t.co/zh26GnD2Uv pic.twitter.com/JtMIBFqVIO

— barriaga (@itsjustkevinv) January 28, 2021
12. My So-Called Life
First time I saw burgeoning lust from the girl's POV. https://t.co/bIHYMoEkey pic.twitter.com/jVRrTIGHGb

— Jenny Deiker Restivo (@jdeiker) January 27, 2021
13. I May Destroy You
i can't even describe how good this episode is https://t.co/ocf9p3o2ul pic.twitter.com/vDr2N1ayXI

— ⚔️magical girl⚔️ (@sephthedemon) January 27, 2021