If you can't afford to tip, you can't afford to eat out. How much should you tip a waiter or waitress? Think about how much you'd like to be paid per hour. Give them that as a bonus. Bad tippers will not be tolerated.
Foodservice is up there with "Amazon warehouse employee" for jobs notorious for mistreating employees. Trust me. I worked at a cafe in Williamsburg for a whole week. Those were dark times.
Bartenders and servers have it rough. Their bosses are usually scumbags, the other waiters are always skipping their shifts to go on auditions, the cooks are mean or downright psychopaths, the pay is bad, and you're on your feet most of the time. Notice how I haven't even mentioned the customers yet?
Being a bad customer at a restaurant is adding to someone's already awful day. If you're rude to waitstaff, you're probably a bad person. It's top on the list of red flags. Don't be that guy. Tip well or don't go out at all. Especially right now.
Here are stories from servers who refused to let bad tippers bring them down:
---
1.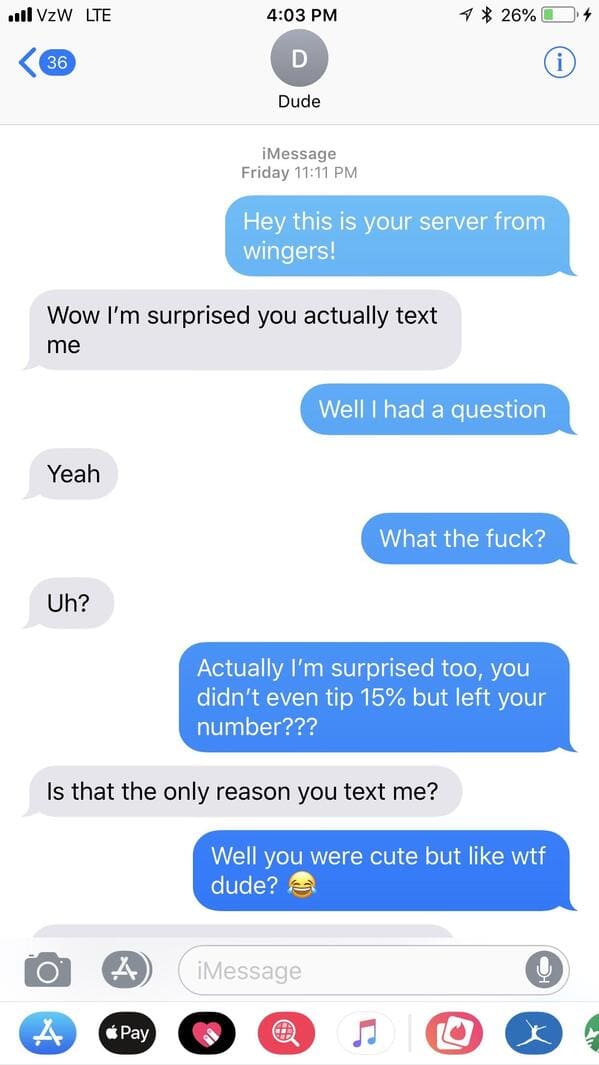 2.
Bruh if you ever leave your number but not tip imma still text you but imma start off by calling you a broke bitch

— stormy 🌙⚰️ (@stormyjade_) August 11, 2019
3.
me trying to move on with my life after a table who was SO nice to me doesn't leave a tip pic.twitter.com/l2r3SWvi9I

— Ally Gesteland (@AllyGesteland) August 13, 2019
4.
So today I got tipped 78 cents on a $125 bill and I actually ran after the guys and gave them the change back and said "You need this more than me apparently"
LOL @ MY LIFE

— McKenna Price (@kenn_ahh) July 28, 2018
5. Reminder: Don't ever do this.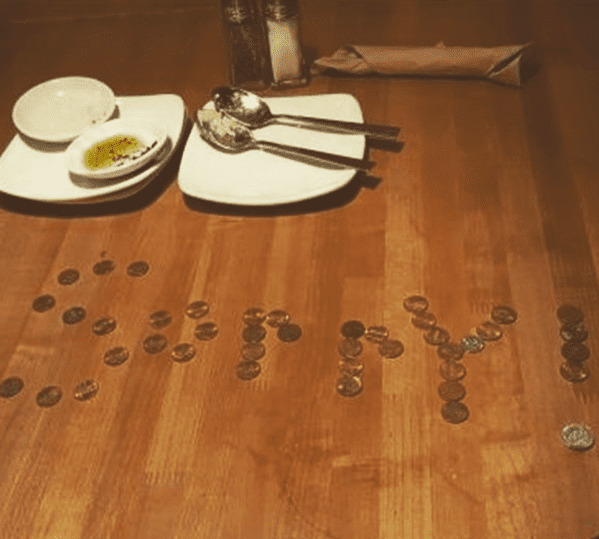 6.
If you don't want to tip at least 20%

Sit. Your. Ass. Home. pic.twitter.com/UF03HdExxh

— Chris Crocker (@ChrisCrocker) January 26, 2019
7.
My last table. A couple & a baby; said i was so nice and everything was perfect….tipped me 72 cents.i gave it back & said "thats ok…you keep it" & smiled & walked away.👍

— L's (@laurena_x0) May 3, 2019
8.
One time this lady left me a tip of hella quarters yo. Hella fucking quarters. Her EXTRA ass left a note that said "Be faster next time"
🤬 she had just walked out the door so I came out behind her and threw the quarters back at her lmao my manager was not pleased

— 💛 (@dontkera) July 30, 2018
9.
Love when a group of 21+ ppl come to eat and leave no tip! And we don't charge gratuity! #waitress #badtip pic.twitter.com/TpvD0A00So

— Alejandra Vargas Melendez (@AleeAlee97) August 12, 2019
10.
PSA: please don't be this guy. He ordered a bunch of shit all for him to leave me no tip, scrunched up his tab, threw it on the floor, and left. Bitch i'm leaving work with $20 lmao. pic.twitter.com/e4kYem5siX

— buttercup (@junipsss) August 8, 2019
11.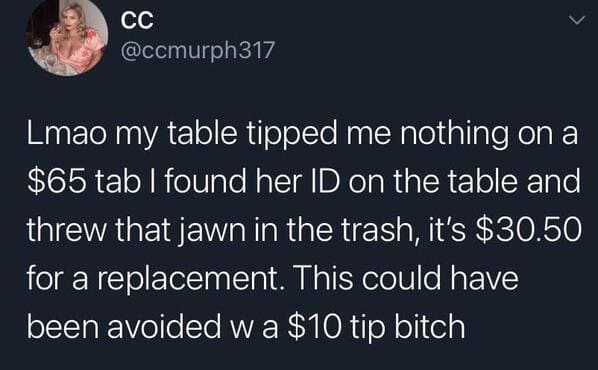 12.
I waited on a couple who left me $0 on a $50 bill tonight so I chased them out of the restaurant to "kindly" thank them for their generous tip :-)) (also they were really freaking rude & disrespectful so fuk them)

— mini muffin (@burritoxo) January 8, 2019
13.
14.
One time i was this guys waitress and he didn't leave me a tip after perfect service https://t.co/fijZaAqh0d

— Bailey Moses (@Baileyamoses) June 21, 2019
15.
A young couple came in tonight and they ate all their food and didn't give me any complaints but didn't leave a tip.. I have the girl on Snapchat, so do I snapchat her and ask why they stiffed me? 😂😂

— Kailey Price (@kaileypricee) August 16, 2019
16.
I was helping out this family at work and right before they were about to leave the dad comes up to me and while reaching into his wallet says "here since you've been so nice" and I'm guessing it's a tip. He handed me a jehova witness business card. pic.twitter.com/QvFfPGji4P

— 🍃 (@jandthepostycat) August 10, 2019