Starbucks isn't the only place that gets your name wrong. People mishear, misuse, and mistreat names everywhere. Usually, it's a normal misunderstanding. Occasionally, though, screwing up someone's name is a product of a weird system that hates people being different.
I, for one, plan to give my children super bland names. No one in my family is going to be called "Apple" or "ABCDE" until they are old enough to legally change it themselves. That's up to them. I want them to have every opportunity in the world to feel normal and safe, and I read in the book Freakonomics that giving your kid a weird name screws up their whole life.
Still, folks will find a way to screw up even the banalest names.
A guy named Marcus tweeted this his own issues with his name: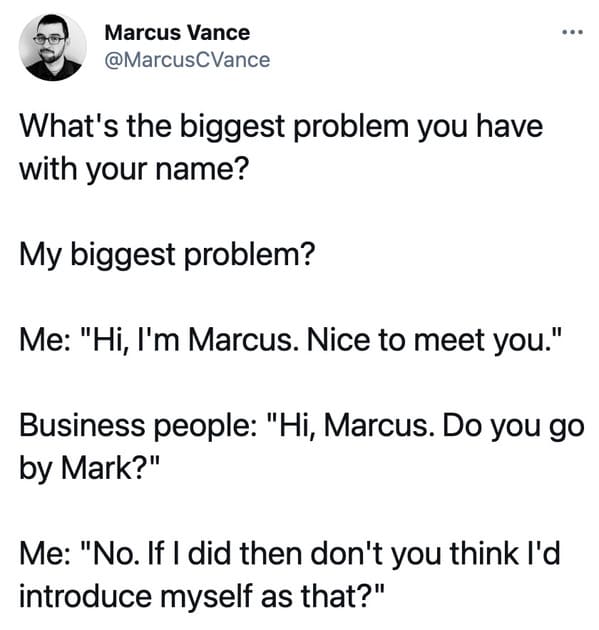 The world responded. I myself spent every day of my youth hearing adults do a Mr. Ed impression when they said my last name Wilbur. For the longest time, I thought adults just liked talking like horses. I had no idea. Thankfully, Nick at Night set me straight.
Here are the most awkward and funny examples of people struggling in the world with their own legal names:
---
1. Almost got it.
2. When your name is everyone else's name.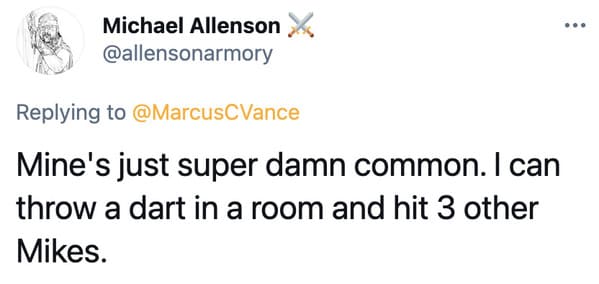 3. Almost!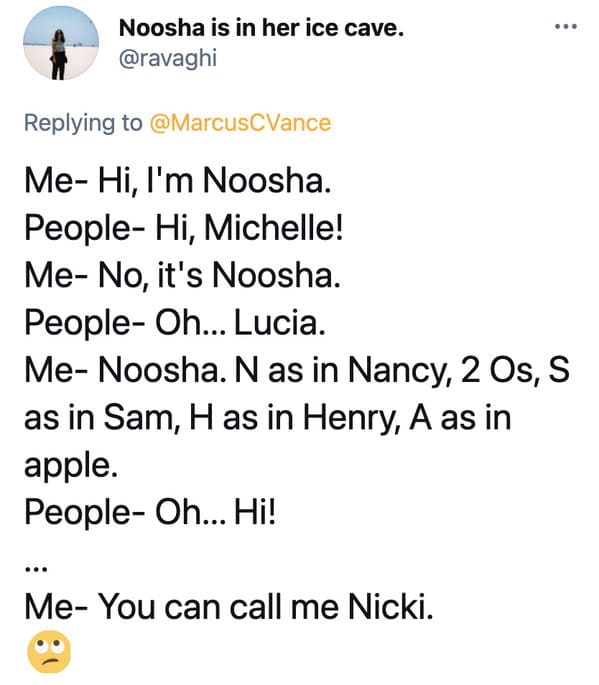 4. Should have started there, Martin!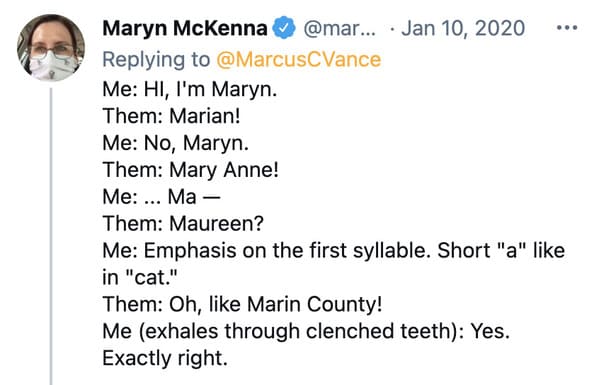 5. There's only one answer.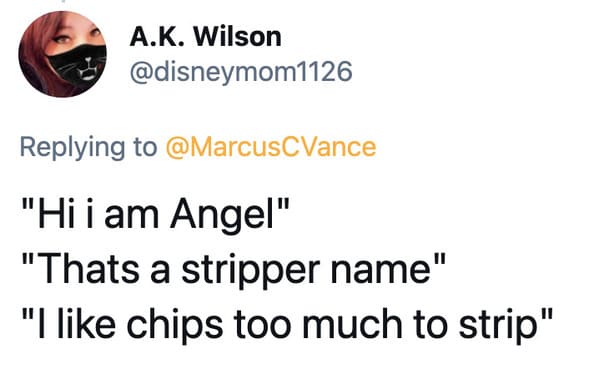 6. Racism is everywhere but especially here.
7. An all-encompassing name.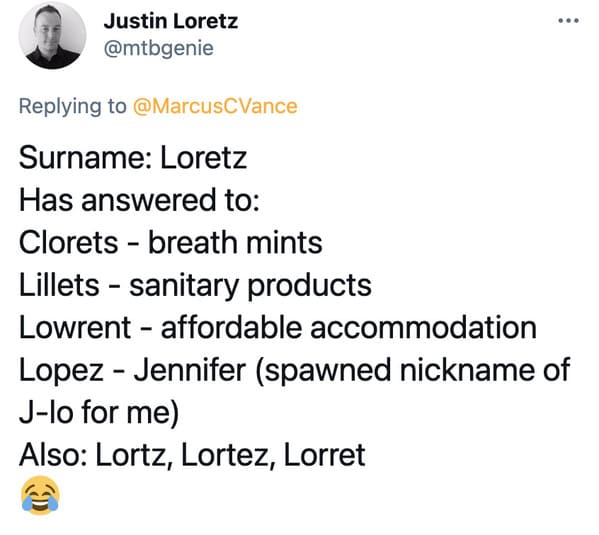 8. Move over, old man.
Usually people can't pronounce it, but one time, when I was in ROTC, a sub who normally taught the second years read my name as "Nikolai" and says "what is that-Russian?!"

And I got to say "no sir, it's Italian and the Cold War is over"

And I did so many push-ups for that. https://t.co/bHW8mTAUK4

— irrezolut (@irrezolut) January 11, 2021
9. Ah, yes. Sounds.
me: my name is Ilya
person: Eleeya
me: Ilya
Person: Eliott
Me: ILYA
Person: Ellen
me: I-L-Y-A!
Person: Bob

— Some_Knight (@ilyakaplan2) January 9, 2020
10. Like the letter.
"What's your name?"
Dee.
"Dean? Hi Dean."
Dee.
"Deena."
No, Dee.
"Deanna."
Just Dee.
"Dana."
There's no N.
"Dia."
Dee.
"I don't know what you're saying."
What comes after C?
"D?"
Yes!
"Your name is just one letter?"
With two E's.
"Oh, Edie!"

— Dee Hanson (@DeeHansonTweets) January 9, 2020
11. When you know your legal name.
My parents named me the short version. My actual, legal, ink-on-paper name is just Katie. I hate it. SO many people ask me if I'm "sure" it's not Kathryn or Kathleen or whatever. What do they expect me to say? "Oh, thank you total stranger! YOU know my name and I'd forgotten it!" https://t.co/66TLNcQlna

— Katie Blaze, Cozy Recluse☂️🦇 (@katie_blaze) January 11, 2021
12. Guess again.
"Hey Moria—"

NO ITS MOIRA I SWEAR IF ANYONE ELSE MISSPELL IT AGAIN https://t.co/dLkk2tCAKV

— DestinyTheMeme (@destiny_thememe) January 11, 2021
13. Try harder, other people.
My name has been butchered so many ways. Most people call my last name 🍟 when it's actually 🥶. People mess up Micah a lot too. Usually it's Michael. Or Mike.

The worst, though, was when I was once called Mitch Fritz. https://t.co/fszGIGeTpV

— Micah Fries (@micahfries) October 21, 2020
14. Sure, let's go with that.
me: hi i'm mason

them: jason?

me: mason

them: nathan?

me: yeah fuck it, nathan https://t.co/m0ryCcEwBi

— ☭ 𝔞𝔫𝔱𝔦𝔣𝔞 𝔱𝔢𝔠𝔥 𝔰𝔲𝔭𝔭𝔬𝔯𝔱 ☭ (@masonisbigsexy) June 29, 2020
15. Why not?
Me: "Hi, I'm Alyssa"

Them: "Hi Melissa"

Me: (anxiety over whether it's woth correcting them or just move on) https://t.co/3ua6RRAI9p

— Alyssa Miller – 🌈Rainbow Teamer🌈 (@AlyssaM_InfoSec) February 29, 2020