If you're a dog person, you know that seeing one on the street can change your whole day around. One minute, you're staring at the sidewalk, wondering where your life went wrong. The next, you're playing with a puppy.
An extremely wholesome Facebook group called "Dogspotting" collects the best photos of dogs from all over the world. Honestly, no matter how many cute dog photos people post, it'll never be enough.
We evolved as a species alongside these wolf-like creatures. They helped us hunt and navigate the wilderness.
Now, they help us get through the day without screaming. Frankly, it seems like a fair deal for dogs. We take care of them, and they look cute.
Here are the best photos from the Dogspotting Facebook group:
---
1. Our Office Recently Hired A Senior. He's 15. Has No Teeth, Can Barely Smell Or Hear. But He Is Perfect.
2. This little guy was walking on a busy street, but someone came and stopped traffic. Who wouldn't?
3. Hitching a ride.
4. Did you hear? The garden is open.
5. A dapper boy from Rockland, ME.
6. "Came across this little 14 week old Spaniel at the beach today."
7. "Spotted this cool dude on my way to the airport!"
8. Spotted at the pub, begging for beer.
9. Happy boy named Jack.
10. Let him up on the chair! He deserves it.
11. "Just hanging."
12. Little monster is all bark and no bite.
13. Blurry but beautiful.
14. Twins in the park.
15. Precious tired boy out in a field.
16. Another angle of the good boy.
17. "Paint me like one of your Frenchie girls."
18. This dog makes everyone so happy at my mom's assisted living!
19. My Heart Exploded.
20. Dewey is 6 and he sees with his heart.
21. Too scared to be on an escalator.
22. "You get down from there right now, mister."
23. Spotted this baby at the grocery store and forgot what I went for.
24. Sonja is having the best of her times.
25. Cleveland Hopkins International Airport.
26. Thank you to this kind gentleman for directing me to the 2x4s. What lovely staff.
27. Parents sent me a photo of this bouquet of 5-week-old puppies.
28. Must love cats.
29. All eyes on her.
30. Arnold is 17.
31. The Cutest.
32.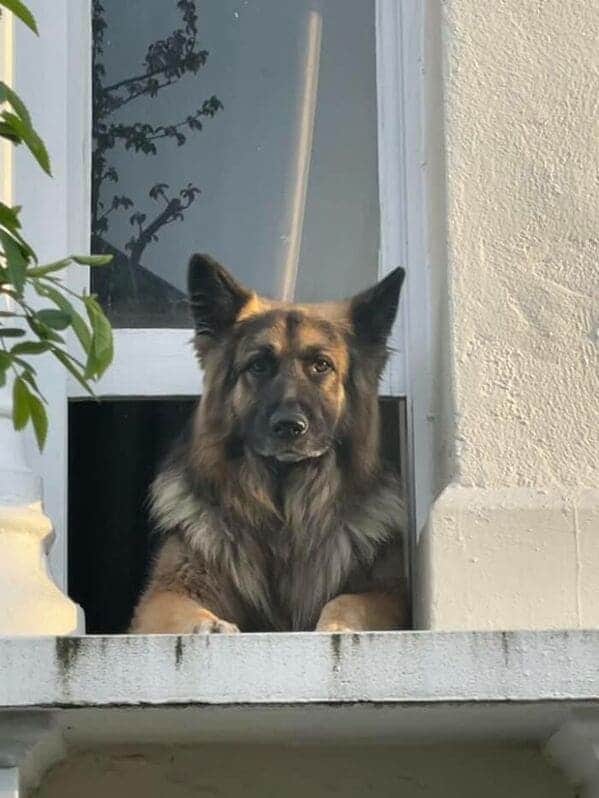 33. Stop Right There, Sir. You Are Simply Too Sweet.
34. This is Chance. He's a therapy pupper. He comes to the hospital sometimes when life is hard.
35. This Little Princess Came Into My Work Today.
36. You've been spotted.
37. How much is that doggy in the window?
38. Cutest Scene Spotted In A Bus
39. The Look You Get When You Don't Cover Your Nose With Your Face Mask.
40. "Today I had the pleasure of meeting Azul, who is the dumbest-looking husky I've ever seen."
See more on Facebook: Dogspotting