Black Friday in 2020 is for rubes. That's why you're looking at this funny post at home in bed, not while you're standing in line waiting to get into Best Buy, right? RIGHT?? Wherever you are, the day after Thanksgiving means exactly one thing: it's now officially Christmas, and you better find gifts for everyone fast. If you want a PS5, forget it. There's simply no chance. Here's my gift to you though: the funniest Black Friday memes I could find. I'm giving them to you for the low, low price of $0. Enjoy!
Here are the funniest memes about Black Friday to help you laugh off your 2020 Thanksgiving hangover:
---
1.
Black Friday is people buying things to celebrate the birthday of a man who renounced possessions

— John Fugelsang (@JohnFugelsang) November 27, 2020
2.
Everyone at gamestop: fighting over a PS5.
Meanwhile me: pic.twitter.com/hQarFTGsrV

— Jet flas (@Jet88618994) November 27, 2020
3.
I just want somebody to love me like these guys love the #Ps5.

They skipped Thanksgiving meal to camp outside of @GameStop for 24hrs in Norfolk.

They brought mattresses and bedding. Been here since 6am. Dedication. pic.twitter.com/lEkf2DuvAy

— Eugene Daniel 13News Now (@eugenedanielTV) November 27, 2020
4.
"Damn why that kid inside the gamestop taking forever to walk out with my PS5" pic.twitter.com/4qfrcv8jYp

— 💯 Yung ItsJuan 💯 (@yung_itsJuan) November 27, 2020
5.
Thankful for every company that laid off the majority of their work force so they could offer these great Black Friday deals.

— Matt Somerstein (@MPSomerstein) November 27, 2020
6.
Happy Black Friday! Go out and buy something nice like a fancy coffin.

— Rob Stern (@TheRobStern) November 27, 2020
7.
YO GOT TO GET THEM BLACK FRIDAY DEALS.. #GetThemDeals pic.twitter.com/fNHrb1McSP

— jason 🦥 (willy wonka of mayo) (@patsfilms) November 27, 2020
8.
Get all your Black Friday shopping in before it's too late! pic.twitter.com/dvMIjmvpU2

— Jordan VanDina (@JordanVanDina) November 27, 2020
9.
On Black Friday I am reminded how many retail establishments have my email.

— Jennifer Tilly (@JenniferTilly) November 27, 2020
10.
A safe way to recreate the Black Friday shopping experience is to roll yourself down a hill clutching a PS5.

— Conan O'Brien (@ConanOBrien) November 27, 2020
11.
Everybody's getting one of these https://t.co/u4jrMvfNGf pic.twitter.com/XjOeXycM9a

— Dan Wilbur (@DanWilbur) November 27, 2020
12.
We are grateful for you, we are so thankful that we get to share a part of your life. You are so special to us. SO special and unique that we're going to give you 10% off — every email I've received today

— Ophira Eisenberg (@OphiraE) November 27, 2020
13.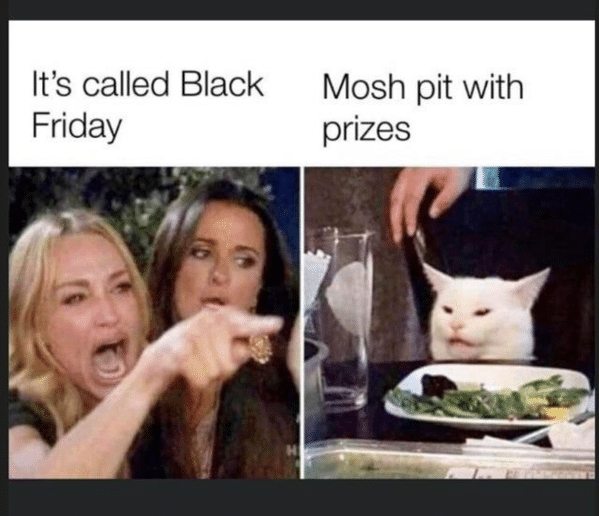 14.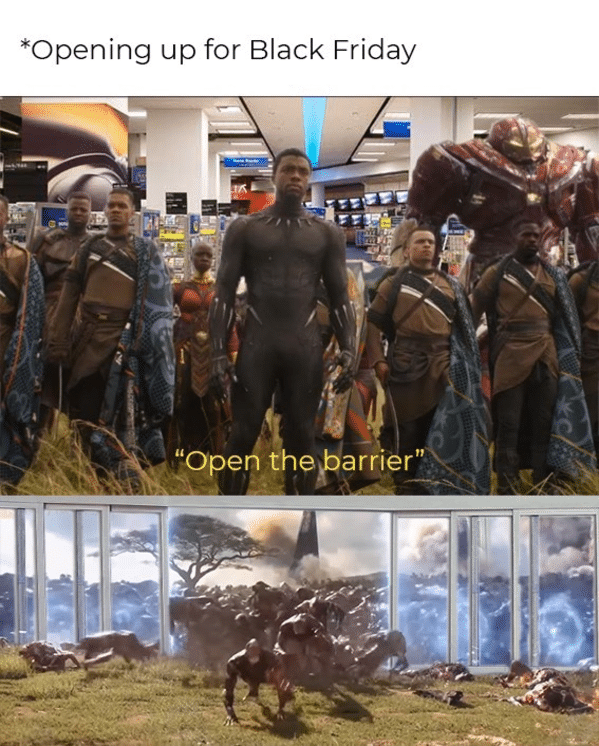 15.