Kids say the darnedest (funniest) things. Sometimes, kids say something that's scarier than it is funny. Weird children say weird stuff. Thankfully, their parents have Twitter. Now, you can read the funny, strange things children say without going through all the pain of raising one. I mean, I guess if you were really desperate to hear some weird kid talk you could help a friend or family member with some free childcare. They need it now more than ever. But, nah. You should just read these and laugh.
Kids say a lot of weird things, and their parents want to share it with the world:
---
1.
I was lifeguarding and a little boy threw his ball out of the water and his mom goes "maybe if you ask the pretty lifeguard she will grab the ball for you!" This kid looked me dead in the eye and goes "…..where's the pretty one?" KIDS ARE RUTHLESS LMAO

— Carlie V (@Carlie_Veenhuis) June 22, 2018
2.
Random guy: *honks at me for taking too long to pull out of my parking space* MOVE YOUR CAR, LADY!

My 4-year-old: *rolls down her window* HEY!!! YOU CAN'T TELL MY MOM WHAT TO DO! YOU'RE NOT HER KID!

— Mommy Owl (@Lhlodder) October 31, 2018
3.
Daughter didn't want "sunscream" so I put her outside and yelled "SUN…. GET HER" and now she's flipping out.

— Housefly Handrubs (@jacaristar) August 25, 2018
4.
today we asked my three year old cousin how much he weighs and he said, "uhhh, like fifty squirrels"

— k :') (@kwlimoth) December 24, 2017
5.
*Overheard conversation between 2nd grade boys*
"Do you think you'll ever fall in love?"
"I don't know. I think if she likes pancakes, then probably."

— hallie (@hallierb) March 9, 2018
6.
I bought my son a book about bats and halfway through it he shouted out, "WHAT??? BATS ARE REAL?!?!" All this time he thought they were made up for Halloween like ghosts and witches

— Ally (@TragicAllyHere) August 16, 2018
7.
i ask my toddler what's in the box she's holding. "chaos!" she replies. "chaos! chaos!" i know she's trying to say "crayons," but it's not like she's wrong.

— rachelle mandik 🕳 (@rachelle_mandik) January 9, 2018
8.
My 4-y/o daughter tried to jam me up today.

Kid: Mommy, why is your bra in daddy's car?
Me: What!?

The Mrs hit me wit a killer side eye. She ain't been in my car in weeks

Me: Ain't no bra in my car!!
Kid: Ya huh, cup thingie with straps

*we all go to garage & look in car* pic.twitter.com/3c4kItwnZO

— ManSitChoAzzDown (@AngryManTV) June 27, 2018
9.
6-year-old: I woke up.

Me: Um, good job?

6: Thanks. I'm done for today.

— James Breakwell, Exploding Unicorn (@XplodingUnicorn) January 24, 2019
10.
4-year-old: Why do we have to wear shoes?
Me: They protect your feet.
4: No, they trap your feet. *whispers* They're feet traps.

— Mommy Owl (@Lhlodder) January 7, 2019
11.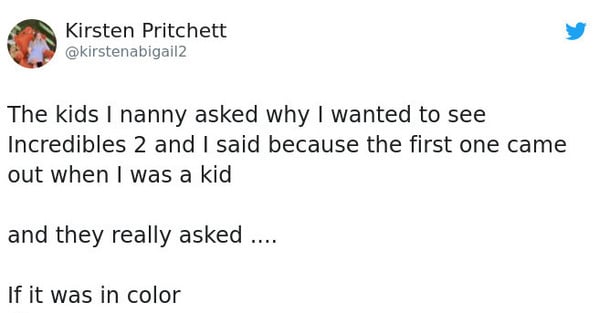 12.
My 10yo said something by mistake and promptly followed it by saying, "Delete, Delete, Delete," and I've never related to anything more.

— Jessie (@mommajessiec) November 7, 2018
13.
Wife: i'm concerned our toddler is obsessed with comic books.

Me: what makes you say that?

Daughter: [to our cat] what is your origin story?

Wife: see what I me-

Me: shhh I wanna hear our cats origin story.

— NewDadNotes (@NewDadNotes) January 3, 2019
14.
My 5 year old son just asked "what if we put a slice of turkey in the DVD player and it played a movie about the turkey's whole life" and none of the parenting books I've read have prepared me for this question.

— octopuscaveman (@OctopusCaveman) August 26, 2018
15.
Me: What did you do at school today?

5-year-old: Learned about dragons.

Me: Your class learned about dragons?

5: I learned about dragons. I don't know what everybody else was doing.

— James Breakwell, Exploding Unicorn (@XplodingUnicorn) April 19, 2018