16.
Me: What do you want to be for Halloween this year?

3yo: Asleep.

Can't say she's not mine.

— Lauren Mullen (@DraggingFeeties) September 17, 2018
17.
Me: [butchering a raw pork shoulder]
Child: Can I poke it?
Me: What?
Child: Can I poke it?
Me: Poke…poke the pork?
Child: Yes.
Me: WHY
Child: It looks squishy.
Me: It IS squishy.
Child:
Me:

[5 mins later]

Wife: WHY ARE YOU TWO POKING THE PORK

— Rodney Lacroix (@RodLacroix) January 9, 2019
18.
My daughter, who I grew from scratch in my own body, saw me wearing my new boots and said, "No. Hideous. Either they go, or I go."

Don't pressure me. I'm still deciding.

— Housewife of Hell (@HousewifeOfHell) January 14, 2019
19.
My daugjter just ruined Toy Story for ever. She said if one of the toys died Andy wouldnt know and he'd carry on playing with its corpse

— Reverend Stigmund Boykie (@stiggib3) July 1, 2018
20.
I generally think of myself as an okay father but somehow I forgot to teach my two year old son what an owl was and he thought it was called a wood penguin

— judah snackabee (@crookedroads770) June 10, 2018
21.
Me: "Who got pee on the floor?"

5y.o: "Wait- did you say the floor or the wall?"

Me: "Floor."

5: "Oh- not me, then."

— Stephanie Ortiz (@Six_Pack_Mom) January 24, 2019
22.
I've been doing a horrible British accent for two hours and my kids are so irritated. And I said, "Some children don't appreciate culture." And my daughter replied, "And some people don't know when to stop." And I'll be here in my coffin.

— Lyz Lenz (@lyzl) November 26, 2020
23.
""I wish mermaids were still alive. I bet that mermaid tail was some good eatin'." – 8 year old." -via Reddit user Cheesedoodle2
24.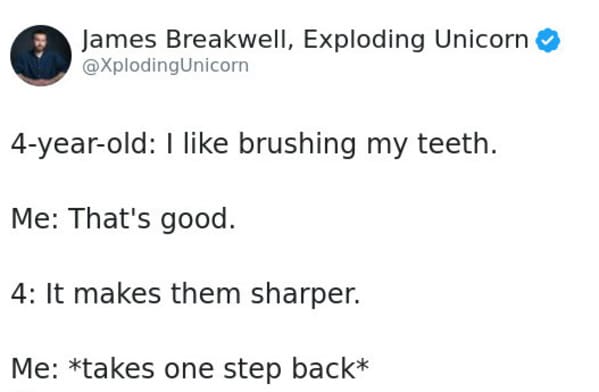 25.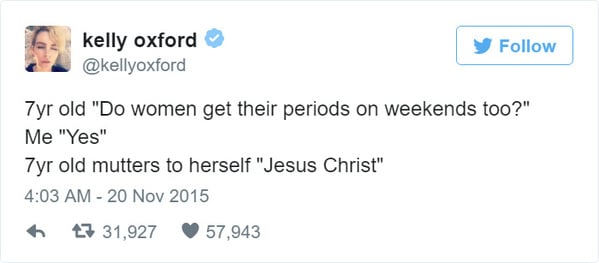 26.
"Girl with her baby doll: My doll won't stop crying.

Me: Maybe it's hungry.

Girl: My doll is not real!" -Reddit user semprini23
27.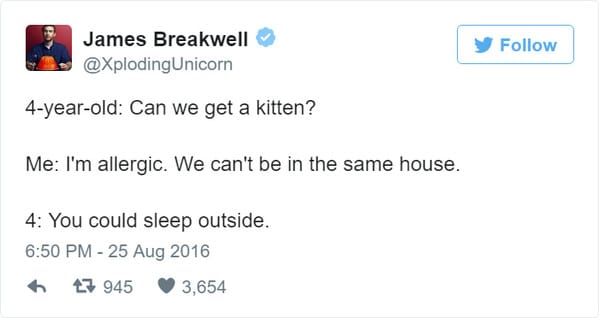 28.
"Boobs are the reason why Sasha Banks is my 4 year old's favorite wrestler. He doesn't watch wrestling but my stepson does so my son tries to bond by playing with the older one's wrestling figurines. His favorites are John Cena and Sasha but "I like Asha best because she has boobies already." I asked him who talks to him about boobies and he blamed his Pop, who denied it. Little kids like boobies." -Reddit user iwannaridearaptor
29.
"My mom once gave my 3.5yo nephew a pancake, telling him it was the last one. He picked it up, declared "the last pancake, alone and afraid" and then he shoved it in his mouth. No idea where that came from." -via Reddit user misshome
---
More strange but funny things to click on: