Greetings from my job that I love. Truly, I am blessed. I don't think my boss will ever read this, but if he is reading it I want to say: dang, I'm having yet another great day. Sadly, not everyone can say the same. Not only do some jobs truly suck, but some bosses make those bad jobs worse. Employees are taking to the internet to get their revenge.
Comedian Kevin McCaffrey shared a story about an awful boss on Twitter, and it started a viral movement. Soon, everyone was sharing their own horror stories about the people who pay them money. If you recognize Kevin, that's because I've interviewed him on this very site about his viral videos revealing that he is Mike Pence's cousin.
Here's the tweet that started it all: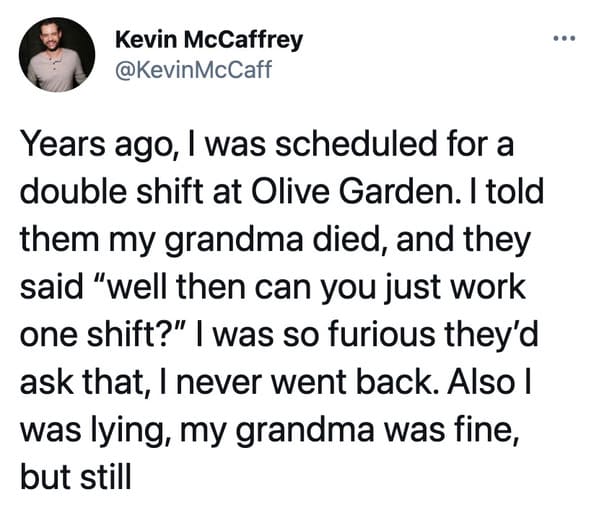 The joke set off a flurry of great and horrible stories about bad bosses.
Here are stories about bad bosses who apparently felt the need to say something horrible to their employees:
---
1. Bosses never believe you're sick.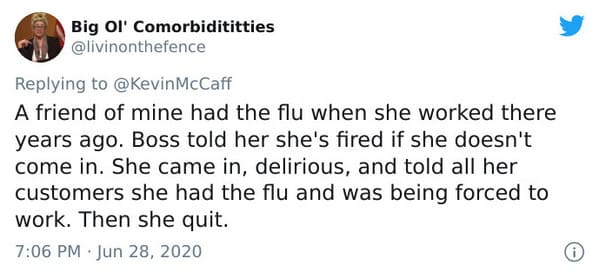 2. It's in the calendar, sir.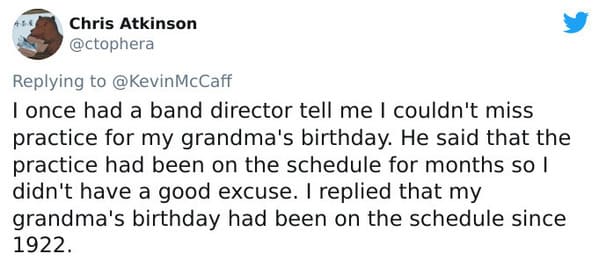 3. Revenge is sweet.

4. This is a red flag, boss.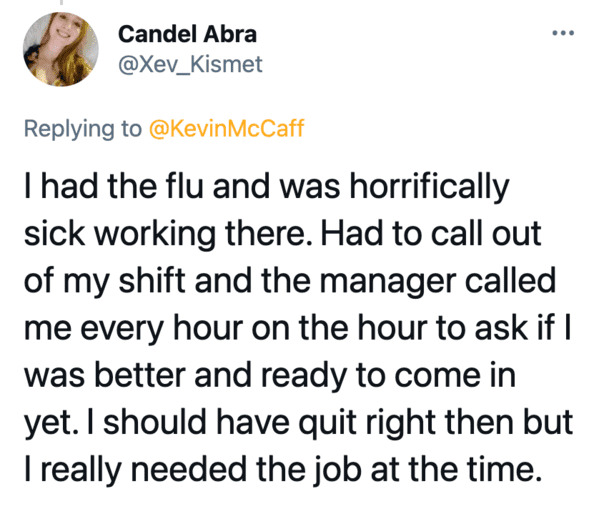 5. Clearly, a boss who loves his family.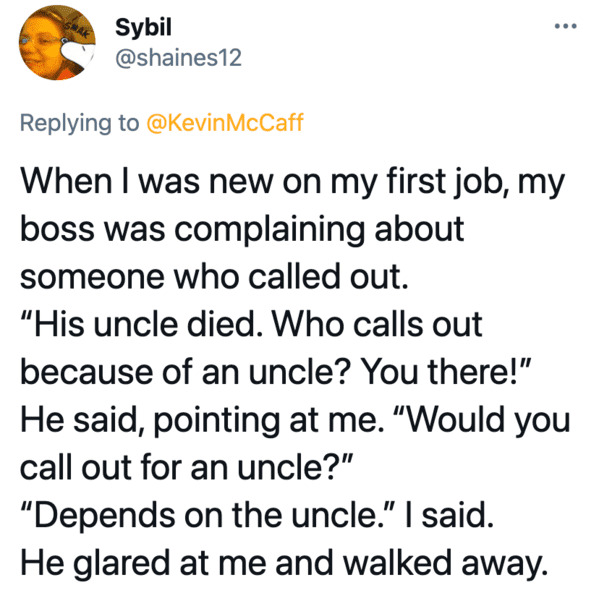 6. Work and life balance is important.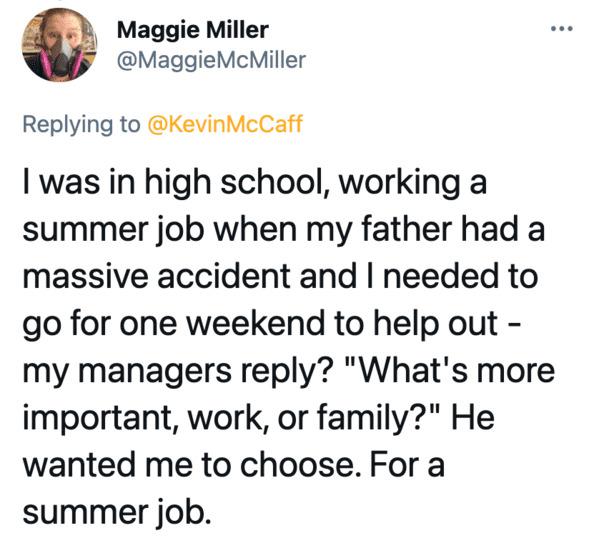 7. This one took a turn.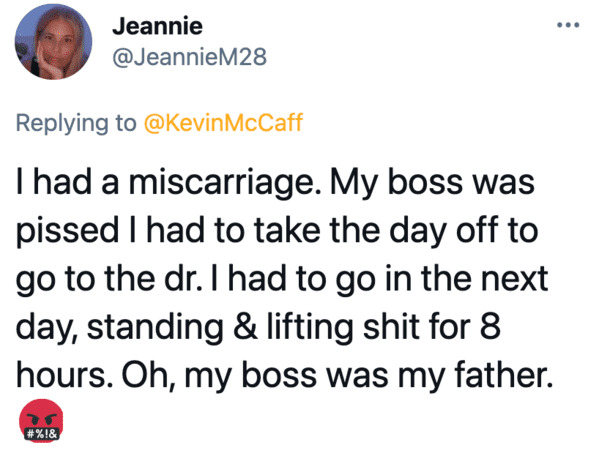 8. I hope they showed him the picture.
Our Olive Garden got hit by a TRUCK and my manager still tried to open. We've made a meme out of it since. pic.twitter.com/fBGXiwolo3

— brooklyn j (@branelson) June 29, 2020
9. Ah, yes. A relaxing funeral.
I actually had a boss that was mad I took time off for my grandmothers funeral. His exact words were "so you're taking another vacation?"

— Ryan Katz (@moshpitmagic) June 29, 2020
10. Literally, why would anyone work here otherwise?
My manager at Buca di Beppo said "If you're all just here for the money, you can go home now." We all just looked at each other like, "We can't go home, we're here for the money."

— Zach Dobson (@ZachDobsonPhoto) June 29, 2020
11. Another abusive relationship to add.
TW & true story: The morning after I got abused, I called in and said I needed a personal day. They said anyone can just call in and say "personal day". I was pressured to share that I just got abused. Their immediate response was "Well do you have visible bruises?"…

— Erica (@enicolehillard) June 29, 2020
12. Tell your wife your boss said to get back to work!
I had a boss complain that I was using my personal phone too much while my spouse was undergoing a risky pregnancy. Then the boss said I was using too much leave time after the baby was born.

Good thing is, that boss is long gone and I'm still here!

— Ben 'Shoutout to Elmo' Blankley (@BenBlankley) October 16, 2019
13. Your doctor knows best.
Scheduled C-section with my son who was breech

during the ultrasound before the operating room the little fool had flipped and turned head down
So they sent me home

Work called my Dr asking if I could return to work that day
Dr called me asking what kind of crazy I worked for

— HunkaMunka (@HunkaMunkaMA) June 29, 2020
14. Women, am I right?
A boss I used to have, had no problem saying out loud "see, this is why I hate hiring girls" when one of the WOMEN got pregnant. This was 3 years ago, not in the 70s.

— That Girl (@Canoe747) October 10, 2019
15. Let the cat live for the weekend at least.
I asked my manager to have a Saturday off because I needed to put my suffering cat down and she dead ass looked at me and said "can't you push it to Monday, we're going to be busy. My last shift is today 🙃 https://t.co/fq1LTHP4gr

— Charliee (@TheCharlieeDee) June 30, 2020