16. When you send the SWAT team on your own dad.
My 5 year old was overheard by his idiot teacher telling his friends I was big robber with lots of guns. The next thing I know the police are searching my house for guns and stolen gear. Err by the way I am not a robber nor do I have or keep weapons. Police were quite apologetic.

— Kamal Mashjari (@ScouseArab) January 24, 2021
17. You can save a lot of money this way.
2-year-old suddenly is quiet and I find her on a stool in front of the bathroom mirror with a pair of scissors. pic.twitter.com/fwnV9Rv7kJ

— Denise Dewald, MD 🗽 (@denise_dewald) January 24, 2021
18. The worst-case scenario, honestly.

19. What was that?

20. We have leaves you can eat at home, sweetie.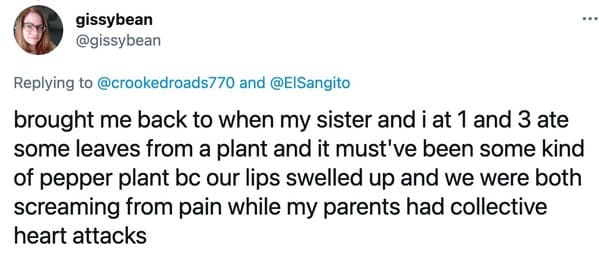 21. When you were one of the kids and the post brought back memories.
22. How did they do it?