Entitled people are at their most entitlementy when they're online. Sharing stories is important. Reading and understanding where other people are coming from helps us all be more empathetic. Some people, however, put the "pathetic" in empathetic.
Whether it's people pointing out when a person is acting super entitled, or the choosing beggars are telling on themselves by screaming that everything should be free, these stories are cringeworthy.
Here are stories about super entitled people acting the most entitled:
---
1. You realize you're hiring an employee, right?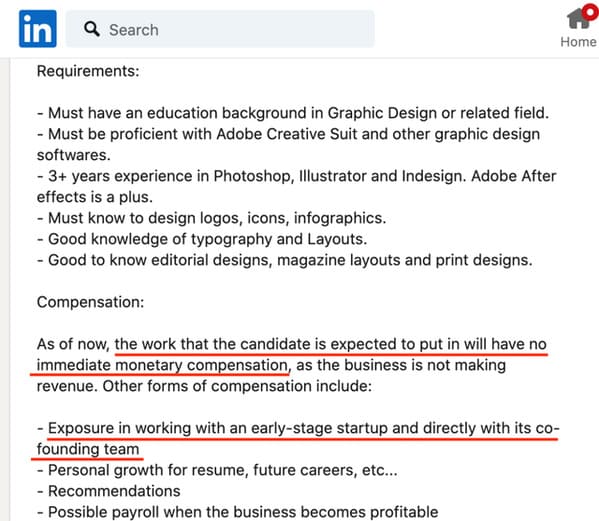 2. Maybe some more exposure?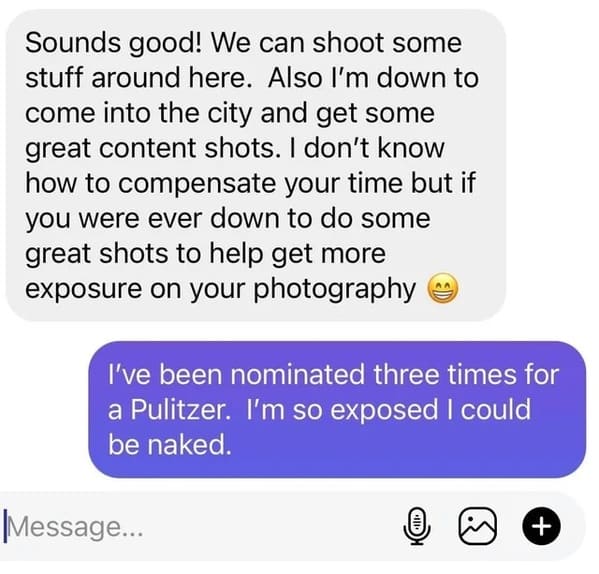 3. Just send the money and I'll tell you later.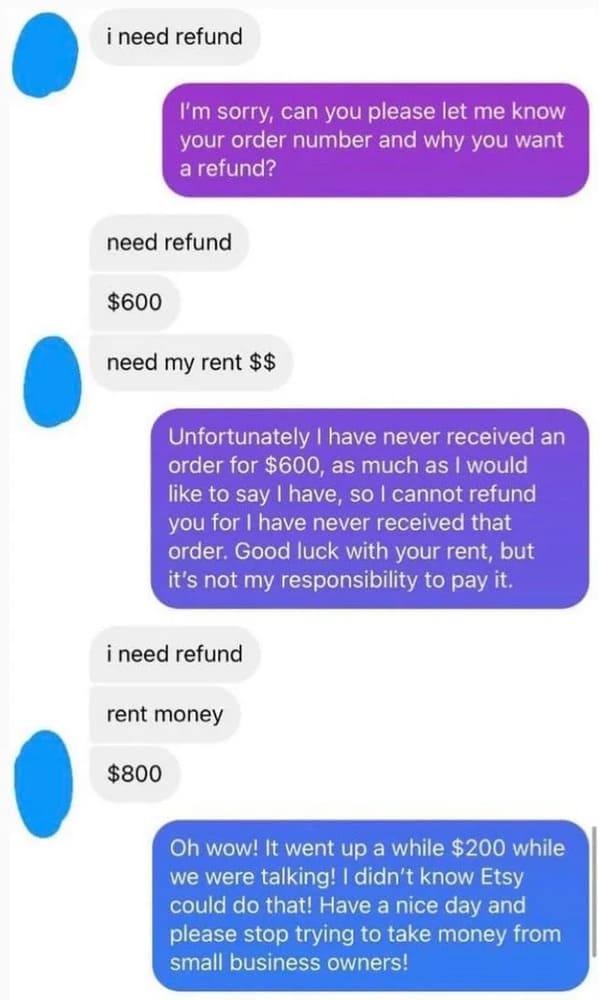 4. Do better, company giving me free things.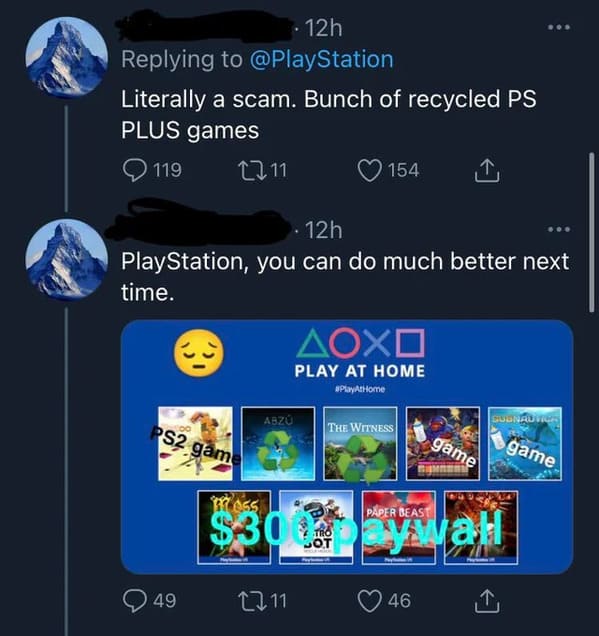 5. A terrible travel experience…
"This happened back when I was a kid but there are stories here that reminded me of this.

Cast of characters: Me: obviously me B and S: bro and sis Ps: parents FA: flight attendant EW: entitled wife EH: entitled husband"
The situation:
"We were on a flight from Miami to Bolivia as a family of five with three kids under 12. We're getting on the flight, sat down, when EW and EH come up to my row. I'm sitting in the same row and B and S.

EW: excuse us, you're in our seats.

Me, B, and S have all been well versed in child travel by this time so we pull out our individual boarding passes and show her: we're also assigned these seats.

EH: no you're wrong let me see those.

We don't give them over.

My dad comes over to see why strangers are talking to his children: excuse me, why are you talking to my kids?

EH: they're in our seats, look.

Dad: that's their assigned seat, they know how to read a boarding pass.
By this time, we have attracted the attention of the flight attendant, who confirms that indeed, those seats had been double booked.
EW and EH are irate, demanding their assigned seats. FA leaves to go "see what I can do for you."

This whole time, EW is making a big show of trying to store her bag in front of ours in the overhead bins and complaining loudly.

FA returns and says: thank you so much for your patience. It was double booked, but it looks like we have enough seats in first class available for your party.
"If you could please follow me?"
"EW and EH sigh, relieved that finally SOMEONE will see reason. EW gathers her bag, and as EH steps forward, FA holds up her hand. "No sir, not you. If you three (looking at me, B and S) will please join us up in first class, we'll make sure you're taken care of."

The lemon sucking look on EW's face as we politely grabbed our bags and moved to the coziest laps of luxury our young selves had the fortune of lucking out on. I remember the meal making me have a headache, but the reclining seats, warm blankets, and sleep masks sure helped with all that suffering." –u/Netflxnschill
6. Take photos with my car for money, please.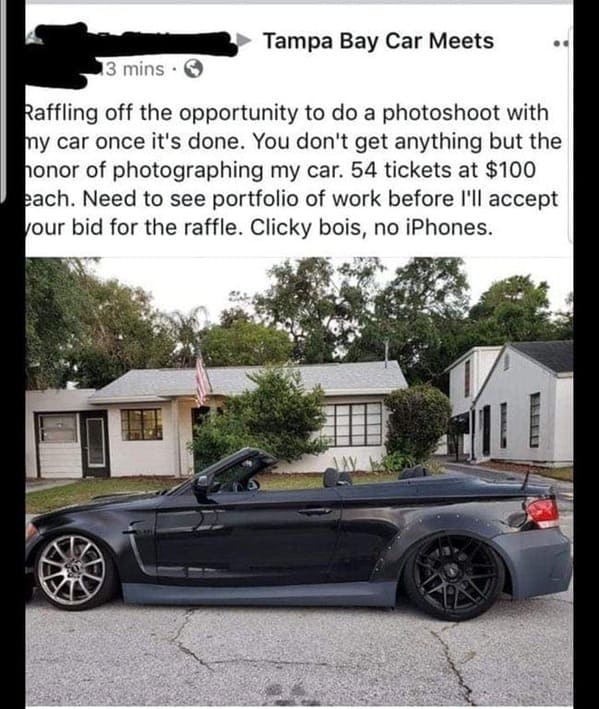 7. Yes, you should but for his sake.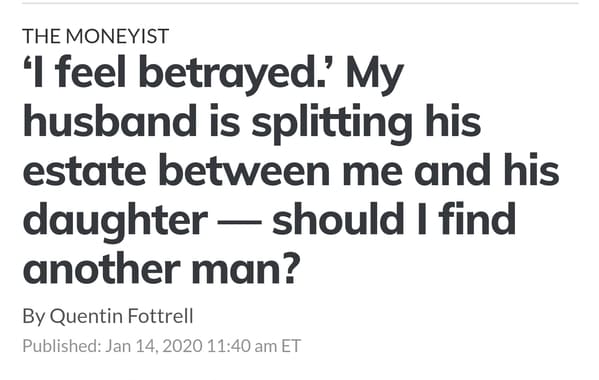 8. Let me stay in the hotel for free.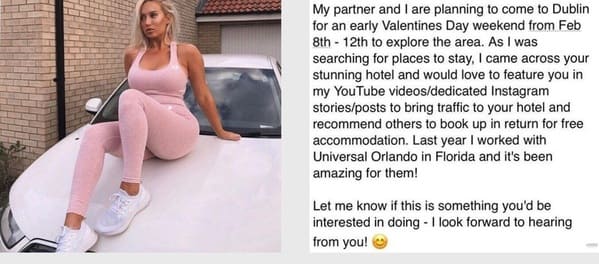 9. This happens once a day in NYC and we yell at the guy to hurry it up.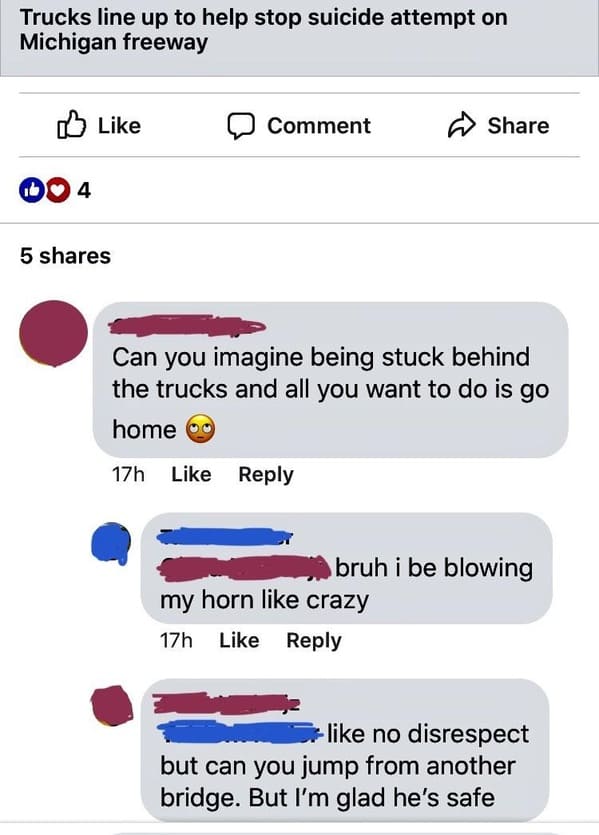 10. Buy it.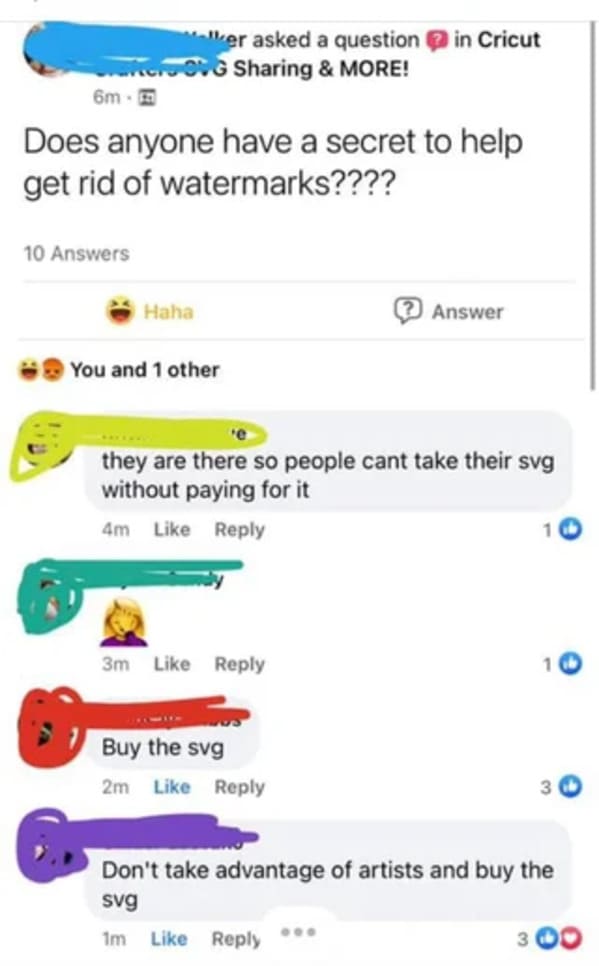 11. This is sorta on them. They know who drinks their product.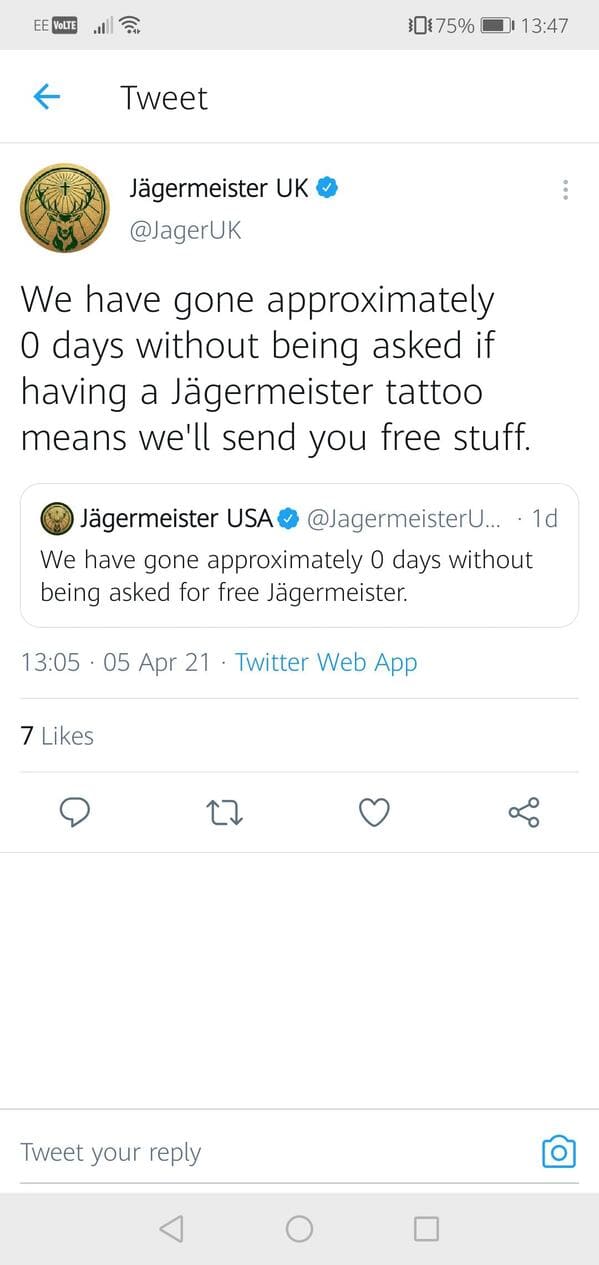 12. Finders-Keepers doesn't work for horses, no matter how much you "love" them.
"So this was several years ago, but another story made me think about it.

I used to show my horses at a local fairground, sometimes. Nothing fancy, just some local open shows, mostly western and barrels/poles. I have a big bay gelding, Dio, who gets a lot of compliments for how striking he looks, he's well known around the other regular show attendants. He's not registered, or even purebred, kind of just a horse of unknown mixed vaguely Quarter Horse-ish heritage, so not particularly high dollar, just pretty. He also is the horse equivalent of a Golden Retriever – absolutely loves everybody, especially if they give him a little attention.
While I was in the ring showing another of my horses, Dio was standing at our trailer in the lot.
"I had a friend at a trailer nearby was kind of keeping an eye on him for me, but she was working inside her trailer when, supposedly, Dio got loose. I came back a bit later as she was stepping out, and Dio was nowhere to be found.

We asked around and a couple of us spread out around the lot looking for him, no one had called out about a loose horse or seemed to have noticed him. Until my friend and I heard a bit of ruckus a few rows down. Someone struggling to load "their" horse.

See, Dio loves people, and he loves food, but he really, really, hates getting into small trailers. First off he's a big guy and really just doesn't fit that well, and second off he's always had some issues getting into trailers. We have a procedure and a big, roomy trailer so he loads okay for me."

A few rows down from our trailer, a woman and her teenage girl are trying to load this suspiciously familiar big bay gelding into an itty bitty two horse trailer next to another horse.
And neither horse was having it.
Just when we showed up Dio yanked back and sort of half-reared up, pulling the rope away from the woman.

Me: Having some trouble loading that horse?

Entitled Mom (EM): Oh he just gets like this, really wound up after showing all day. You know barrel horses.

Me: Well, I think it's probably more of a problem of he doesn't load well, especially into stranger's tiny trailers, since he doesn't run barrels.

EM: What? What stranger?

Friend: That's her horse that you are trying to steal, I think she'd know better.

EM: What? No he's ours we found him.

Me: You…. found him? At a trailer?

EM: No he was just running around loose so we caught him.
Me: And how does that make him yours?
EM: (getting huffy) Well no one was looking for him so you obviously don't care about him. My daughter loves him and wanted a horse to run barrels on.

Me: Well, your daughter is going to be sorely disappointed, because I raised him and care quite a lot about him, and also he doesn't run barrels. He's terrified of them.

Entitled Daughter (ED): I don't care, Jack is the horse I've always wanted. Mom we have to get him.

EM: Well, fine, how much do you want for him? Is $200 enough?

Me: He's not for sale, and not named Jack. I'm going to take him back to my trailer now, bye.

(Another of my friends had caught him by now and was handing his rope over to me, I am 100% ready to just walk away from this headache)

ED: No, mom, you can't let her take Jack away!

EM: No you're not, give that horse back to my daughter!
Me: Nope.
There was some more arguing while I walked away, my friend got really fired up and started yelling.

Maybe a half hour later the lady comes STORMING up to my trailer with some poor deputy in tow, "That's him! That's my daughter's horse! She's stealing my daughter's horse!"

I'll let you imagine the details of that encounter, but "supposedly" I had stolen this horse right from their trailer. I showed the cop a handful of pictures of us together on my phone, including one I had from when he was just a foal, and a few friends/acquaintances that were nearby and knew me attested that, yeah…
Dio is in fact my horse.
We also relayed the whole debacle to the officer, and my friend kept insisting we should press charges, maybe I should have, but I just wanted to load up my horses and go home by then. We also mentioned the other horse, kind of worried it might've been "found" too, and he said he would check on it.

The deputy then went off and talked to the woman and her daughter. It didn't look like a fun conversation for him. After a bit he came back and assured us that the other horse seemed to be theirs, she had pictures. He took down some of my info, and if we wanted to leave, we could. And so we did. (Dio walked right into our trailer with minimal fuss even)

A friend of mine that stuck around longer told me later that she'd seen the girl outright sobbing and yelling at her mom." –u/Rubaiyate
13. Yeah, I'm not really into paying for stuff.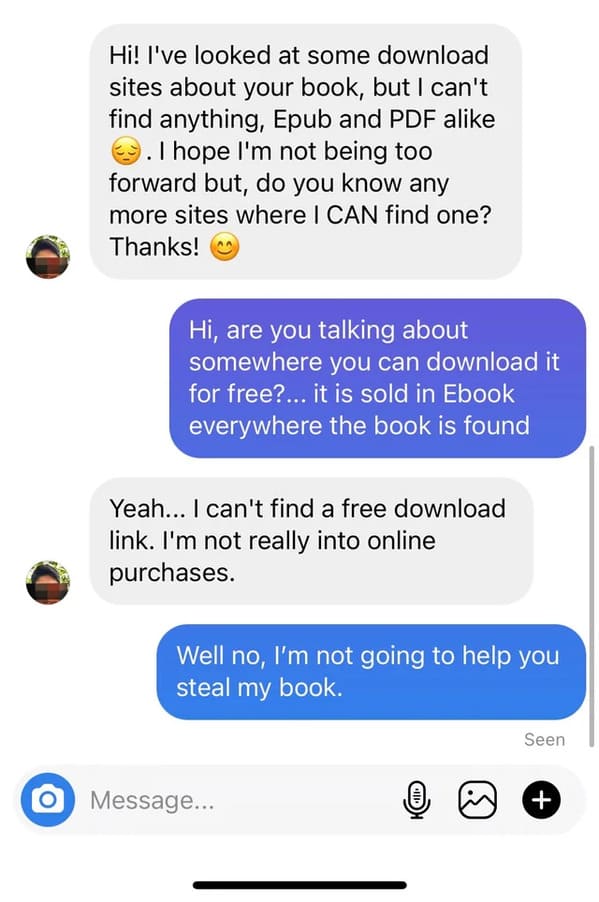 14. How much money would it take though?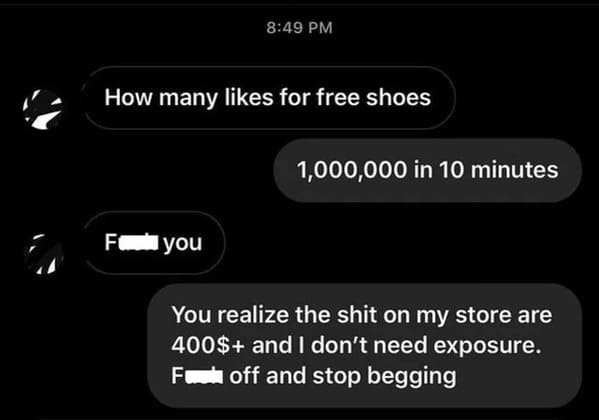 15. Looking for someone to do most of the work and ruin instruments that are hundreds of years old.