Whenever someone has a tough moral conundrum these days, they don't turn to a priest. Sadly, they don't turn to a loved one either. In fact, they don't even turn to someone they know and trust. They turn, instead, to Reddit and the AITA subreddit. Recently, a man who had coffee spilled on him by a waitress asked the internet: "am I a jerk for not tipping after having coffee spilled on me?" You guessed it: people had mixed feelings.
I will leave his story here, and let you, reader, decide for yourself before I let you know what others said. In my humble opinion: I don't care whether these people live or die. Frankly, I'm not sure anything matters, and the fact someone took the time to write this online instead of, I don't know… spending time with family and friends, makes me weep for humanity. Anyway, let's see what happened.
Here's the story of one guy who refused to tip after a waitress spilled coffee on him. Is he the jerk?
---
My man got right to the point. Went to the diner. Coffee on the crotch:
"Yesterday my girlfriend, myself, a friend and his girlfriend went to get some brunch from a local cafe. We order our drinks and as the waitress is pouring my coffee she ends up spilling the cup into my lap. She looks mortified as all the other tables look over to us, but I assure her it's all right and she goes to get some napkins."
How did he react? Like a normal person.
"I am a bit peeved at my scalded crotch and legs but eventually get somewhat cleaned up finish my meal. We pay and leave end up getting into a bit of a debate over how each of us would have handled the situation."
Even people at the meal had an opinion:
"My friend's girlfriend kept saying how they should have comped the meal or offered a discount and even tried to get the manager on my behalf. I talked her out of that. I didn't think it was necessary to get the girl in trouble."
Did he leave a tip? Nope.
"My buddy asks me how much I tipped in a bit of a joking manner, I say I tipped nothing. He agrees it seems fair for what occurred, but my girlfriend says I am an asshole for not doing at least 15% and that I shouldn't punish her for a mistake. (She gets a bit heated about tipping because she used to be a server).

The way I see it is we both had a shitty experience, but why would I pay to have someone (not intentionally) throw coffee on me? I didn't hassle her about it, paid for our meal, and left to go home and take a shower."
Another quick piece of information:
Also, it's not like she got absolutely nothing, we split the meal into two bills, so AITA?
What do you think? Well, here's what Reddit had to say:
---
1. One vote for "the guy was right."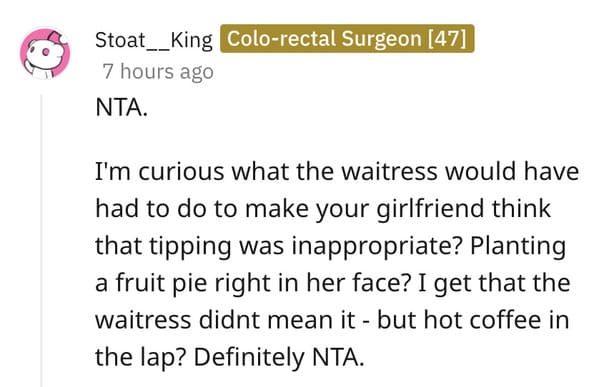 2. Bad service? Bad tip. But… no tip at all?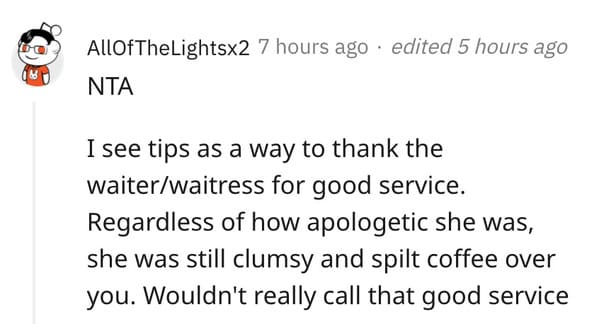 3. Don't expect anything.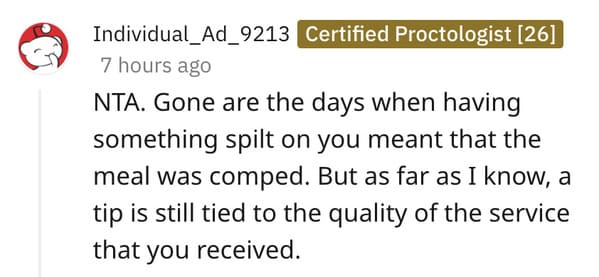 4. One vote from the other side!

5. A "no one is bad" vote.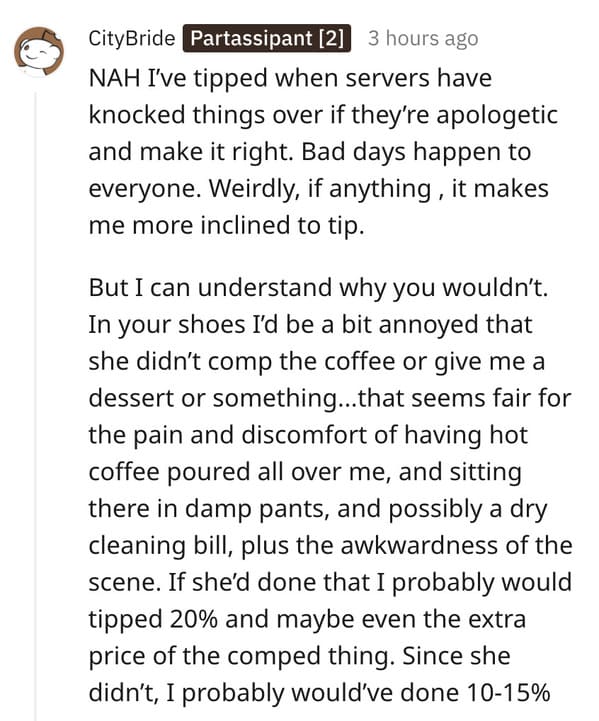 6. Forgiveness is good.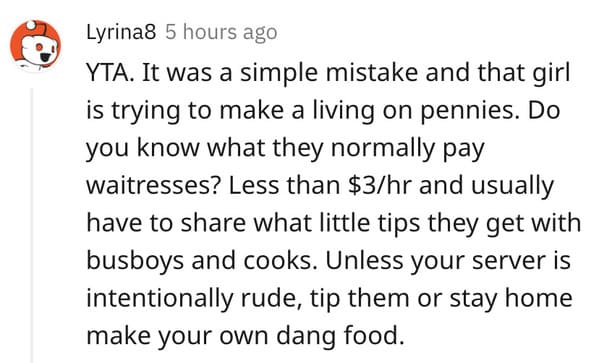 7. This actually makes sense to me.
What do you think?
h/t Reddit: r/AITA