31.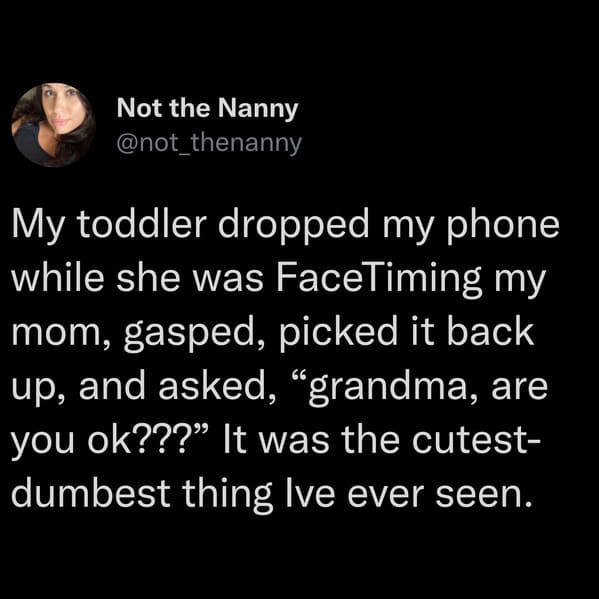 32.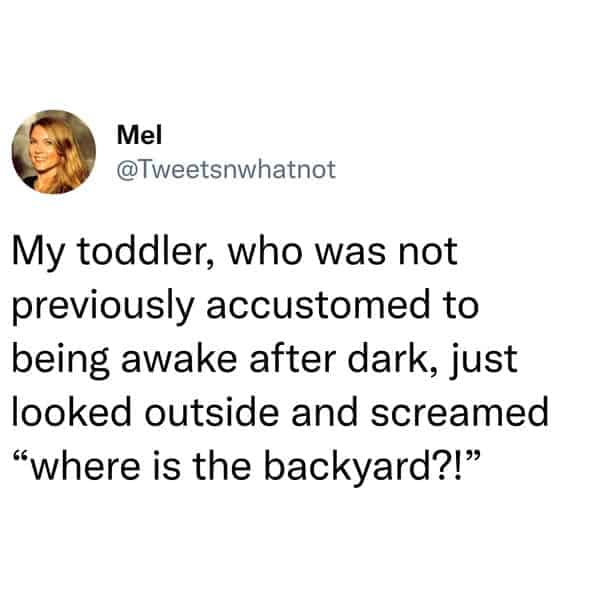 33.
"Dad isn't it weird that the word chicken can mean an animal or a type of food?"

– my kid, on the verge of making a horrific realization

— Average Dad (@Average_Dad1) March 29, 2021
34.
Coming this fall to NBC, "This Is Mine", the heart-wrenching story of a toddler laying claim to things that are not his

— Dave Learns Dadding (@DaveLearnsToDad) April 3, 2018
35.
"She poops too much."

– my son's review of his new baby sister

— Unfiltered Mama (@UnfilteredMama) April 4, 2018
36.
Child: I need help with my homework.

Also the child: THAT'S NOT HOW YOU DO IT

— Rodney Lacroix (@RodLacroix) April 3, 2018
37.
7yo: I like waking up early and hearing the birds chirp.

Wife: If you wake up even earlier you can see the sun rise. It's beautiful!

Me: WHAT THE FUCK ARE YOU DOING

— Dad and Buried (@DadandBuried) April 3, 2018
38.
Me: [in bathroom]

7yo: [knocks] MOMMY?

Me: Yeah pal

7: IT'S ME

Me: I know

7: YOUR SON

Me: Knew that too

— Val (@ValeeGrrl) June 19, 2016
39.
5: daddy can I tell you a secret?

Me: sure thing buddy

5: *grabs my face and whispers* I just pooped and I didn't wash my hands

— DaddyJew (@DaddyJew) June 9, 2015
40.
[Tucking in my 4 year old]

4YO: Daddy??
Me: Yes buddy?
4: We don't fart on friends.
M: Good advice buddy.

— Bo Davis (@BoRyan11) November 26, 2016
41.
Daughter: You're invading my personal space

Mom: You came out of my personal space

— Moe (@_Mo_lee_) January 8, 2016
42.
7: I'm beating you!

Me: Ok.

7: I'm way ahead!

Me: I see that.

7: I'm gonna win!

Me:….

My son on the carousel horse in front of me.

— Master of Mediocrity (@charliedelta7) March 13, 2016
43.
Me: Christmas is Jesus' birthday.

4-year-old: What should I get him?

Me: You could be nice to your sisters.

4: I'll get him a hat.

— James Breakwell, Exploding Unicorn (@XplodingUnicorn) December 6, 2016