If you're a parent, you probably miss having conversations with adults that don't revolve around the last time your child ate or pooped. It's all worthwhile, however, when your child blossoms into a small human who says insanely funny things.
These parents are sharing the goofiest quotes that have come out of conversations with their children. Thankfully, if your kid is strange, you're not alone.
We have the tweets to prove it.
Here are the funniest real conversations parents had with their kids:
---
1.
Accidentally read "goodnight beans" instead of "goodnight bears" in Goodnight Moon, and now my toddler is repeating "goodnight beans" like it's a group chat.

— Chandelier made of bones 🦴 (@3five9) November 16, 2021
2.
[playing Hangman]
son: 3!
me: It has to be a letter
son: Oh. 9!
me *looks at wife* Are we cousins?

— Josh (@iwearaonesie) May 2, 2018
3.
4.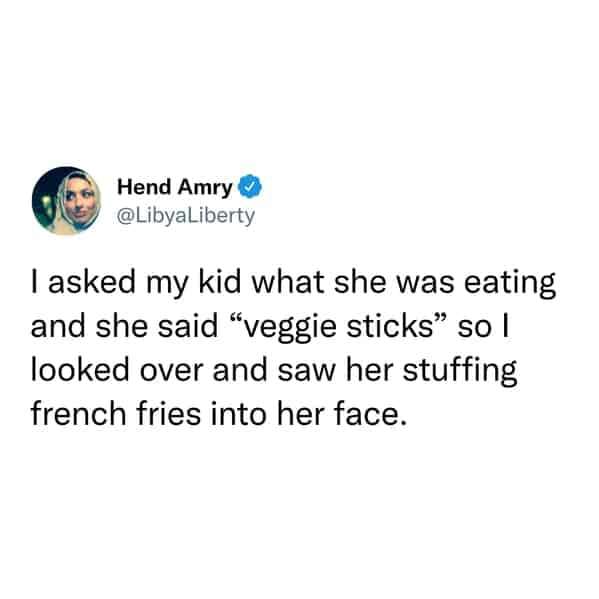 5.
2y.o eating his lunch: "Papa's coffee hot?"

Me: "Yeah baby it's hot, don't touch."

2y.o: "Me blow on it for Papa?"

It was at this point I witnessed with horror, my 2y.o attempt to blow on my freshly made coffee, only to spit a half eaten chicken nugget straight into it..

— Steve 🏳️‍🌈 (@papaneedscoffee) January 28, 2020
6.
When my son was 4 he saw a commercial that said "brushing alone is not enough to prevent cavities and tooth decay" so he made us start brushing our teeth with him.

It's been 3 years.
Nobody tell him.

— Luciux Riker (@Luciuxness) August 17, 2020
7.
my 10yo has learned the phrase "cranking the hog" but doesn't know what it means, so he uses it to mean "what's up," like yesterday when I was cooking: "how's it going dad, crankin the ol hog?" I love this for my family

— chore daddy (normal) (@chore_daddy) October 22, 2021
8.
6-year-old: Do dragons fart fire?

Me: I don't know.

6: I thought you went to college.

— James Breakwell, Exploding Unicorn (@XplodingUnicorn) January 6, 2019
9.
3yo: Mom, did you eat all the penis?
Me:
3yo: You like penis, mom???
Me:
3yo:
Me:
3yo:
Me: PEANUTS! Yes, I ate the peanuts.
3yo: You like penis.

— Marcy G (@BunAndLeggings) May 25, 2019
10.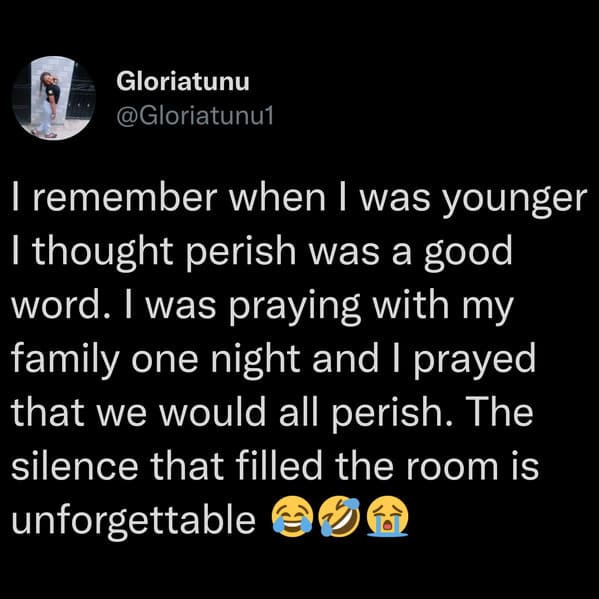 11.
Just told my son they popping fireworks for my birthday and he believed me he said "they really love you daddy" 😂😂😭😭 kids so gullible

— Till Next Time Love' (@CyphDadNextdoor) July 5, 2020
12.
Hats off to the waiter that kept a straight face as my 5yo ordered the vagina for lunch instead of the lasagna.

— Professional Worrier (@pro_worrier_) June 22, 2021
13.
my kids said being a grown up must be awesome because you can eat junk food and no one makes you get up in the morning and you don't have to take showers if you don't want to and I didn't want to ruin it for them by explaining that they're describing depression

— maura quint (@behindyourback) May 8, 2021
14.
I told my kids that at their age I had to watch VHS tapes on school safety, and they said "what's school safety?"

— Conan O'Brien (@ConanOBrien) March 3, 2018
15.
Today I had a formal meeting of my ex husband's girlfriend and my kid goes "this is my mom" and then pat me on the boob and said "this is my mom's boobie"

— brenna white (@BonniePuns) September 1, 2019