Raphael Bob-Waksberg is brilliant. He created BoJack Horseman for Netflix. He wrote a viral Craigslist "Missed Connection" that people loved so much, a publishing company eventually had to include it in his first humor book.
A fun little piece of trivia for you: he also wrote a play in college called The Long And The Short Of It., and I was a lead in that play. That's right. I know people.
Suffice it to say, I've been following Raphael Bob-Waksberg's work closely for decades. That's why I was elated when he tweeted this bit of news:
THRILLED to announce I am writing AND DIRECTING a new LIVE-ACTION Darkwing Duck movie for Disney+ in which Darkwing Duck straight up murders people!

— Raphael Bob-Waksberg (@RaphaelBW) April 12, 2019
Is it real? Is it fake? Is it such a bold post that eventually Disney+ will actually have to do it? Weirder things have happened. That's why I thought it necessary to ask Mr. Bob-Waksberg about his potential new project and he had much to tell me.
But first, let's get a little more information about the new and improved Darkwing Duck.
Here are the details of an insane and violent gritty reboot of Darkwing Duck that Raphael Bob-Waksberg pitched to the world:
---
Let's Get Dangerous!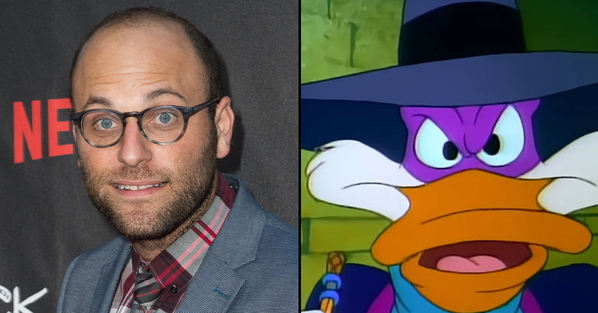 Raphael and Darkwing Duck. Two characters that will be inextricably linked from this moment forward.
What would a gritty reboot of Darkwing Duck en-TAIL? I'm glad you asked:
---
1.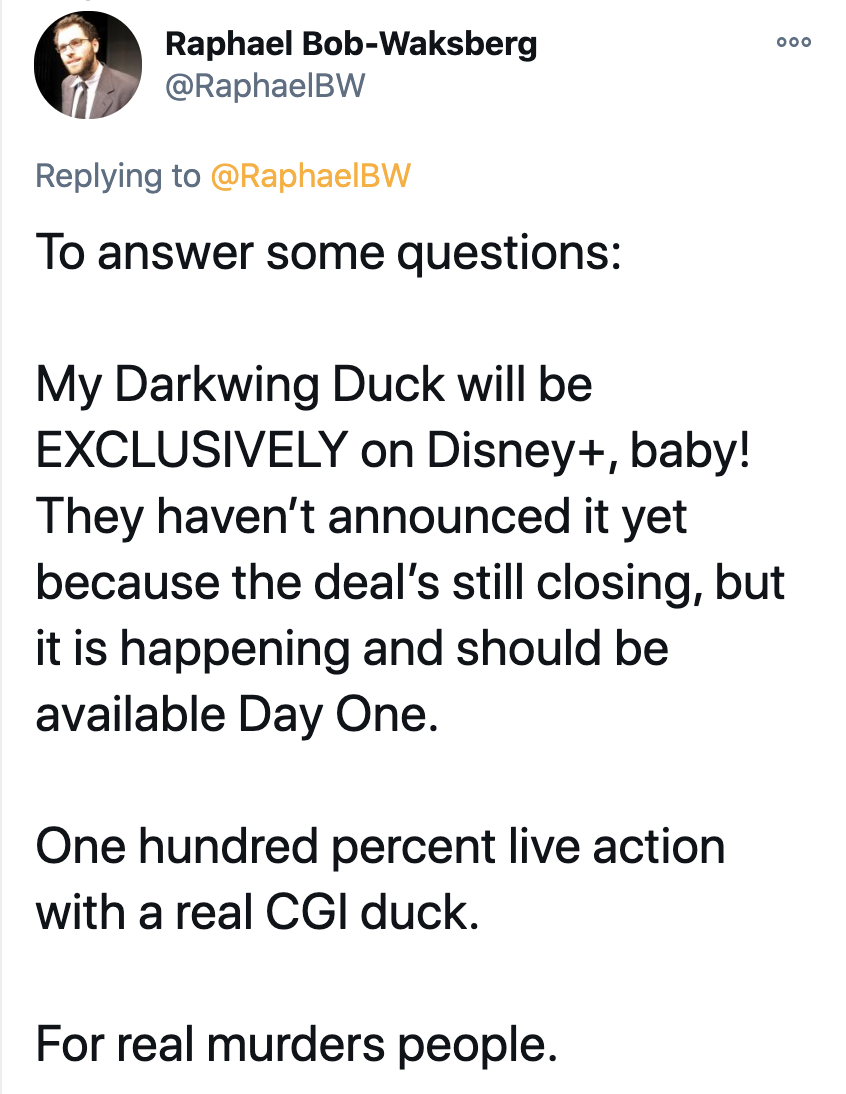 2.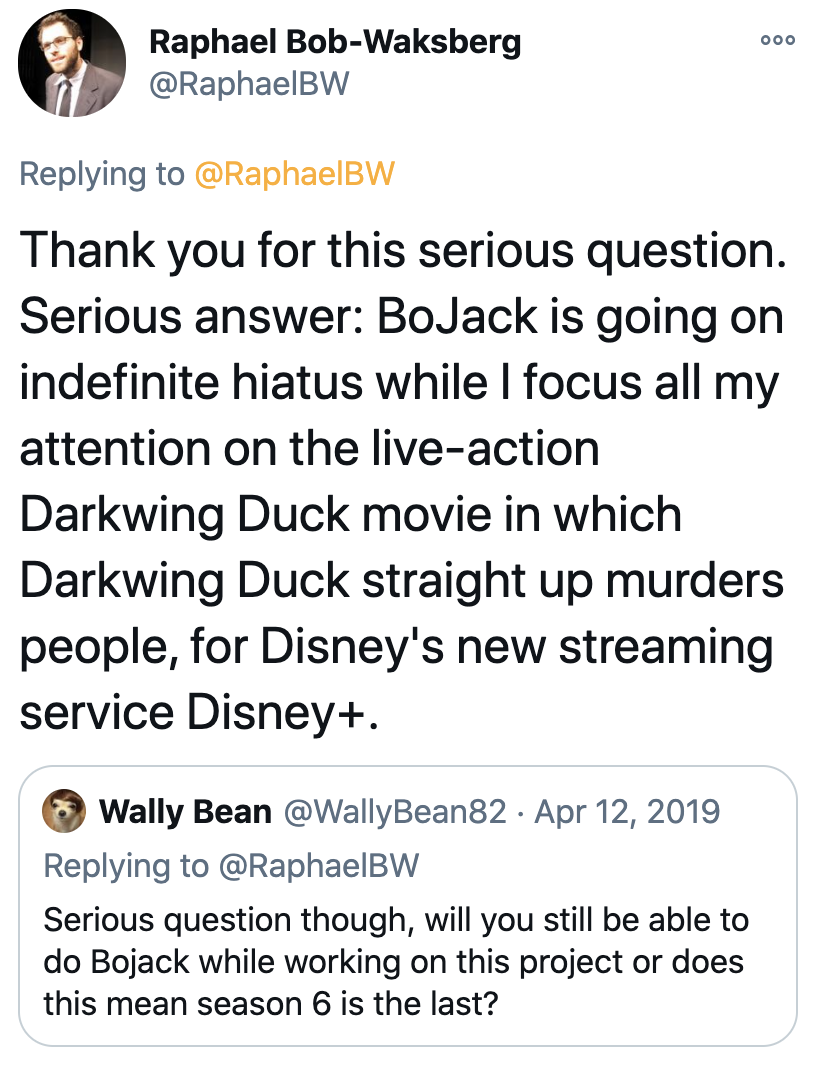 I also had some questions for Raphael about his new project. He was very forthcoming.
DW (wow, my initials could be Dark Wing!!!): How long ago were you putting this pitch together? This was a lifelong dream?

RBW: "Thank you for these very serious questions, Daniel. I first got the idea to do a dark and gritty retelling of the Darkwing Duck saga when I was trying to think of new ideas that have never been done before and I got the idea of doing an old idea in a new way."

"This way I could create something daring and iconic that is also profitable for a major corporation. A win-win, or as Darkwing Duck might say, "a wing-wing – darkwing-darkwing, that is!"

"Ever since I was a kid, I always wondered, what would a REAL Darkwing Duck be like? Obviously he would murder people. Would he also have "attitude" and do cool parkour tricks? These are the kinds of questions that are narratively daring and also broadly appealing to a four-quadrant audience."
Mr. Bob-Waksberg has apparently run into some issues concerning production and casting. He's been very open about the process:
---
3.
4.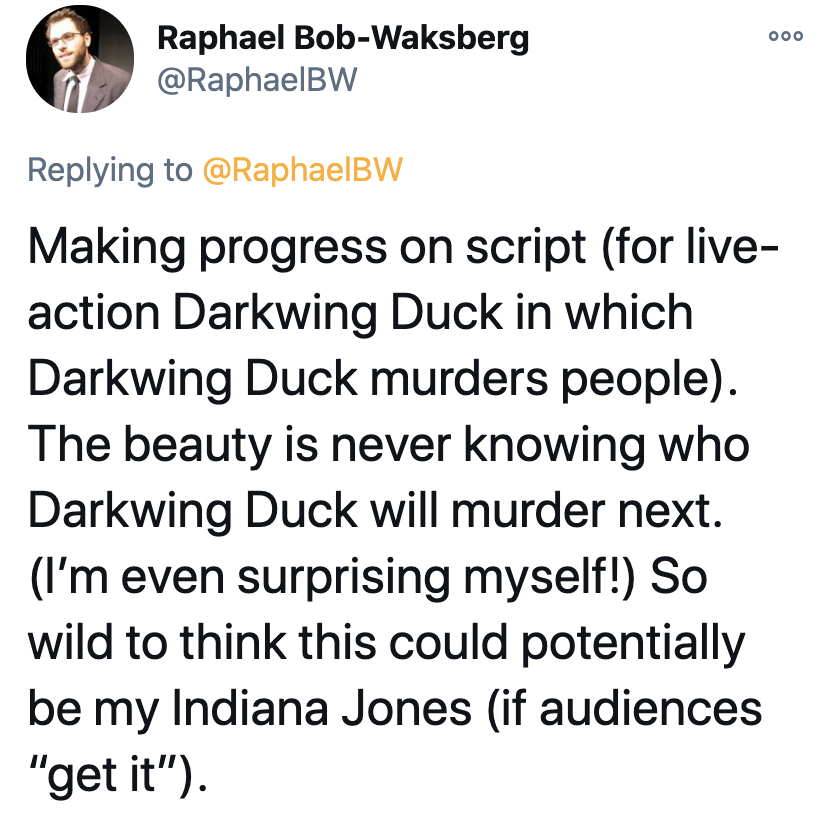 5.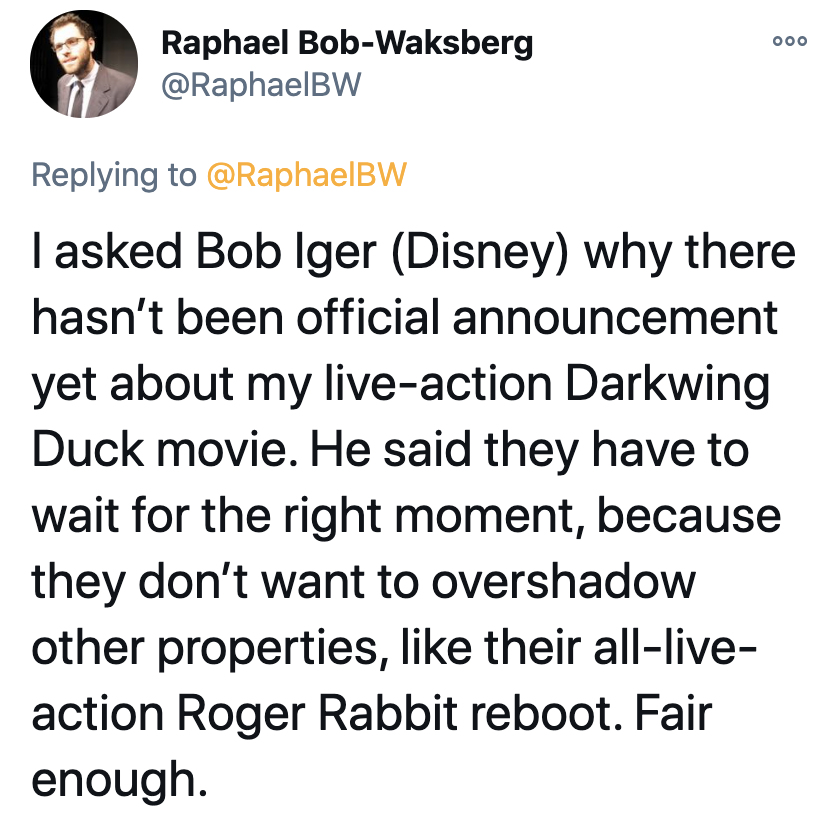 6.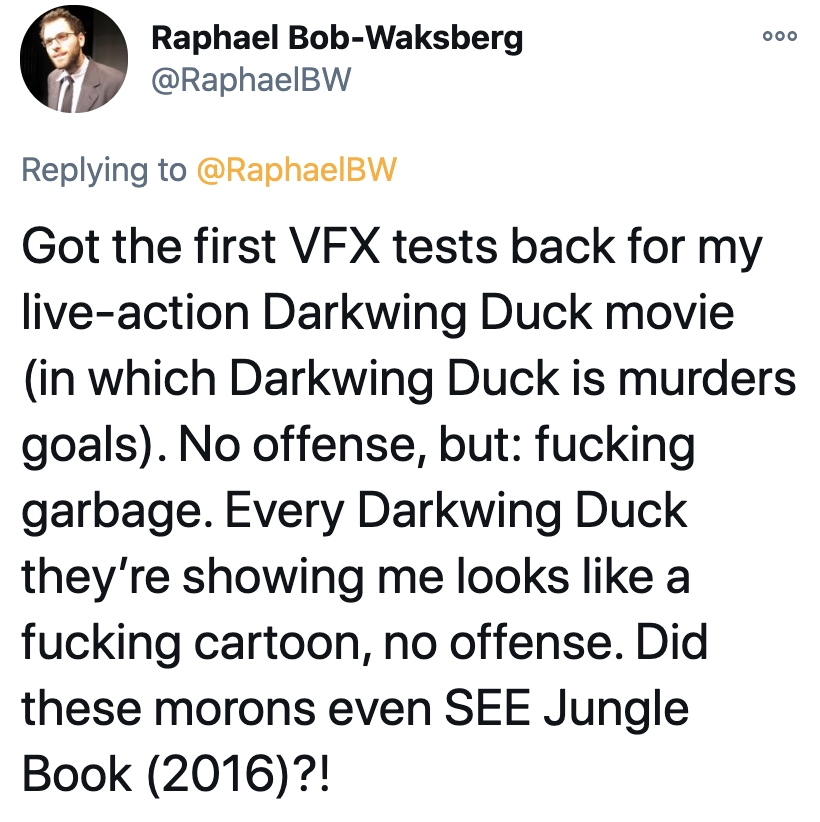 7.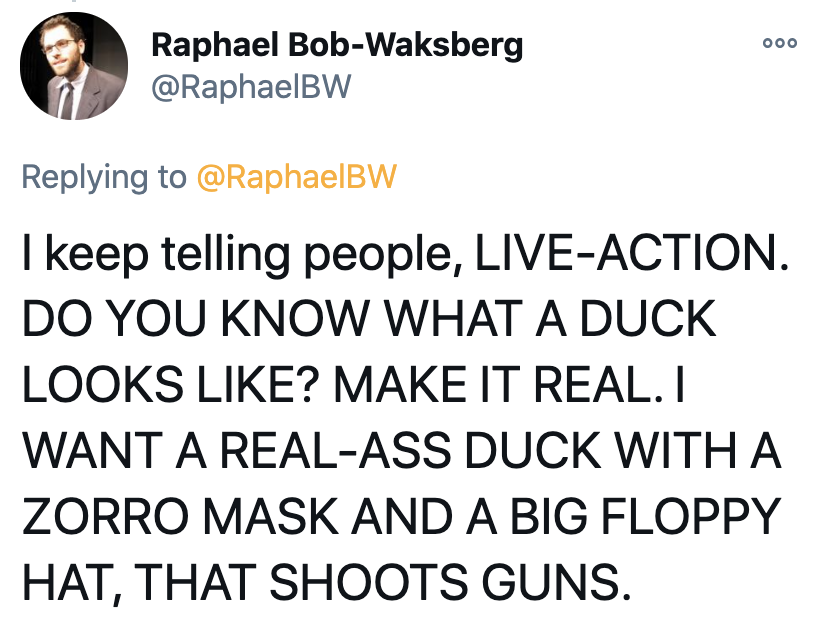 8.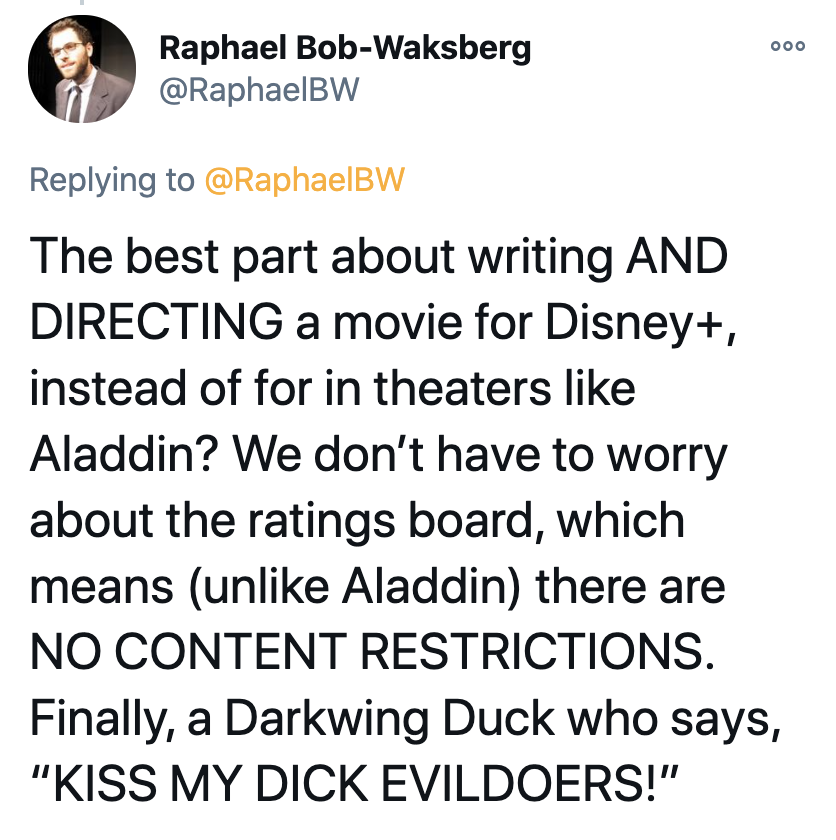 9.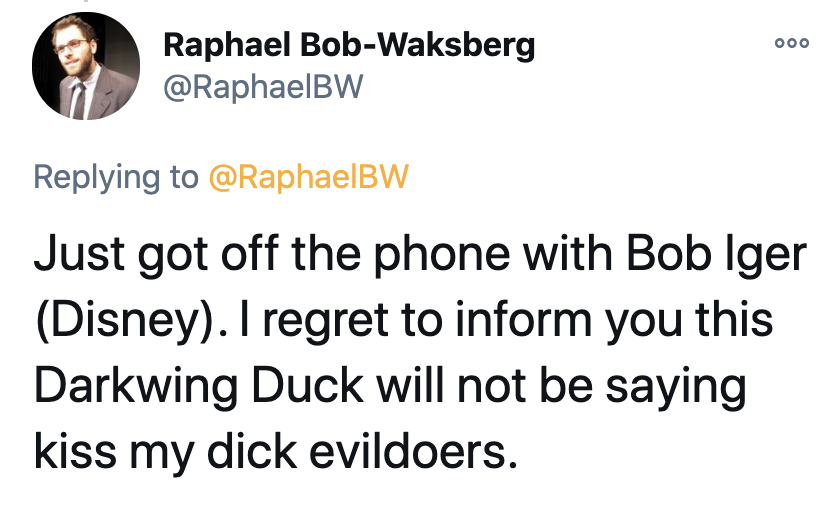 10. Several fans reached out to try their hand at what Mr. Bob-Waksberg was aiming for: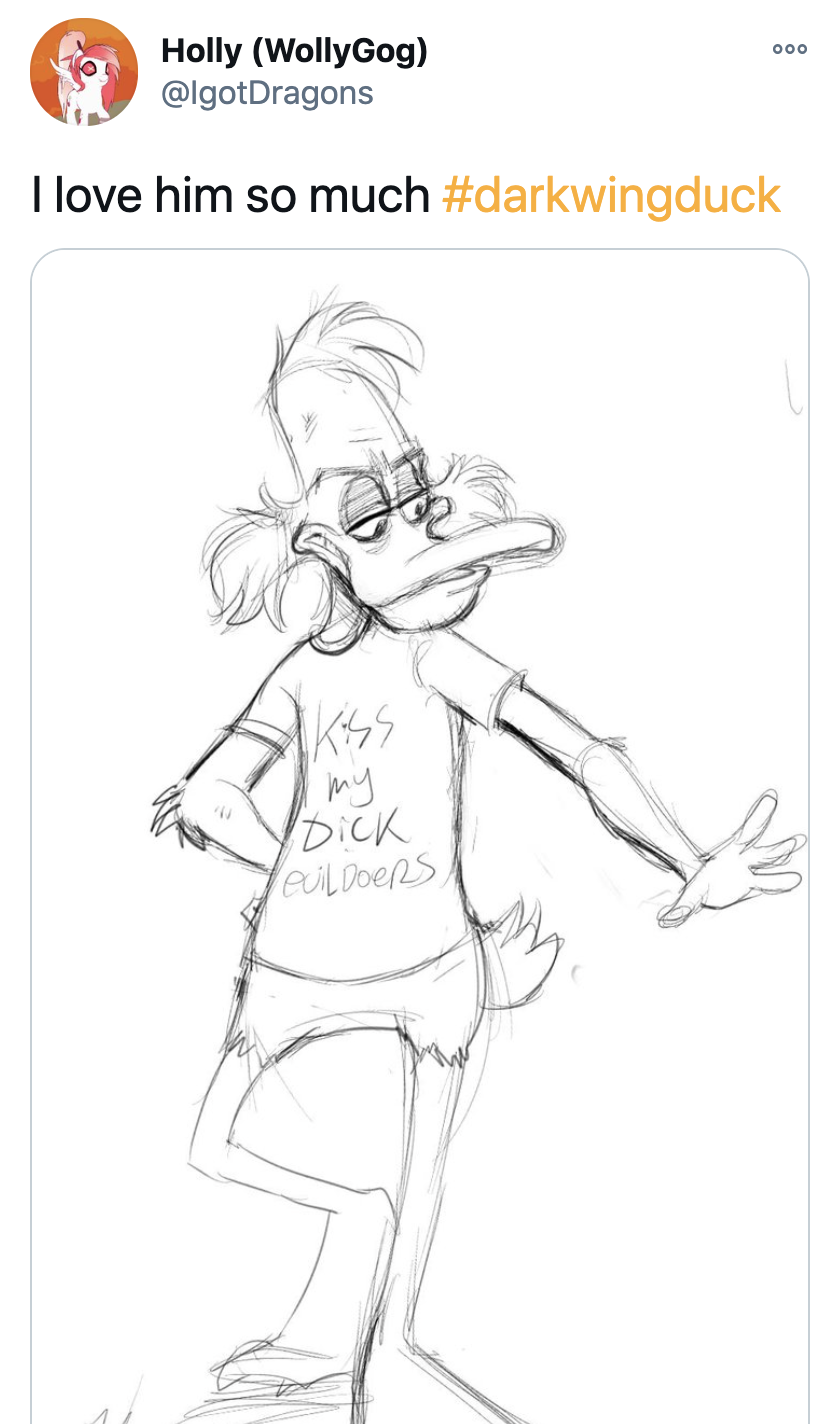 11.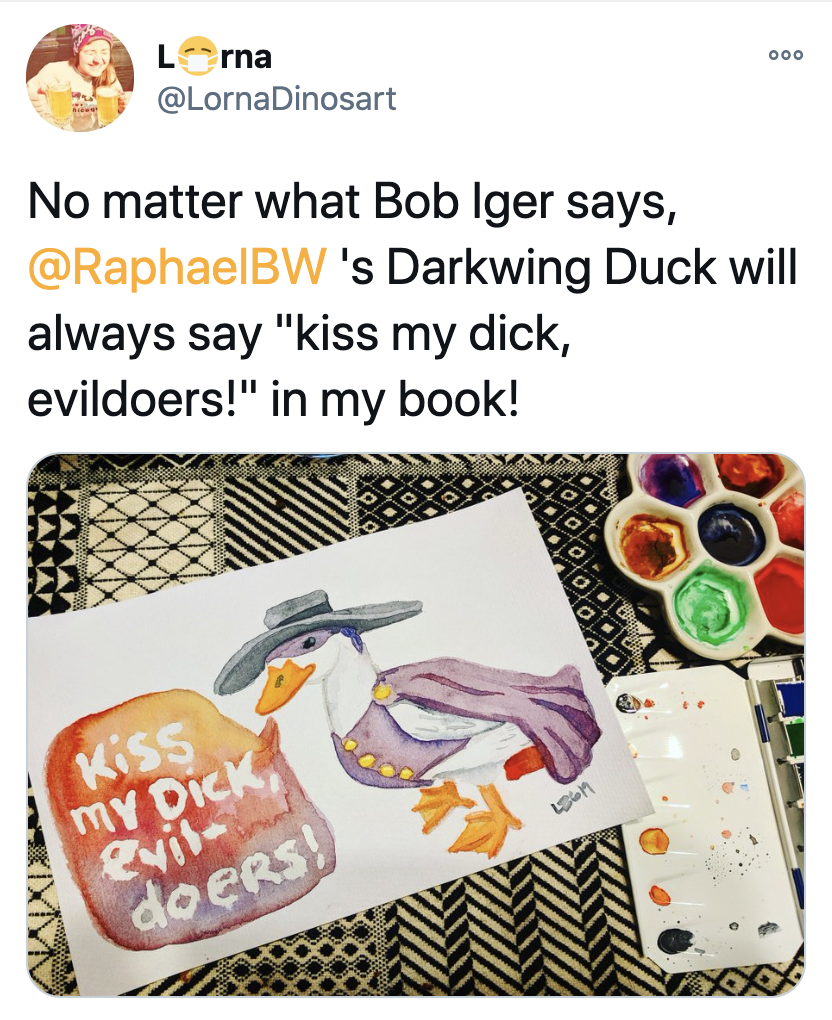 Mr. Bob-Waksberg told me about his other motivations.
This isn't strictly about material gain. This is a dream project.
RBW: "I'm also doing this for my five-year-old son Brycetopher who is not particularly aware of Darkwing Duck as a character but I feel like he would love him probably if there was a version of Darkwing Duck that spoke to today's issues and was morally ambiguous."
12.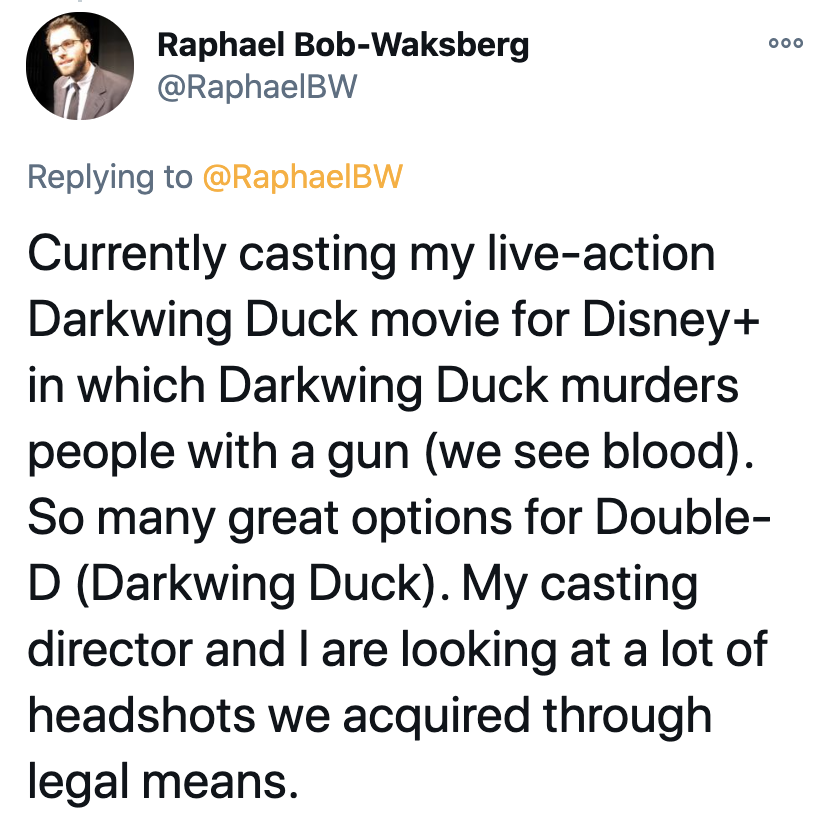 13.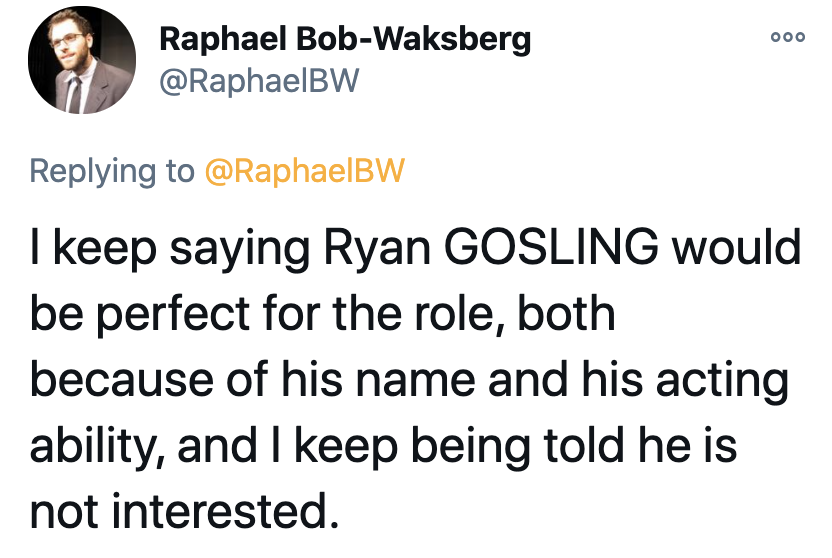 14.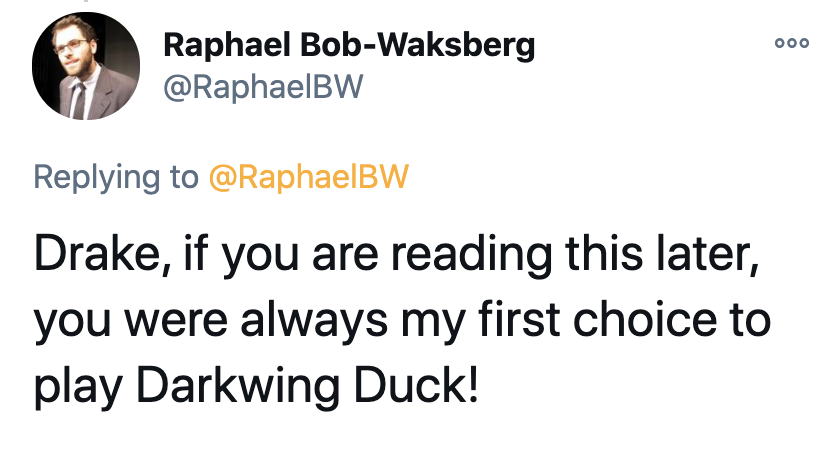 15.
16.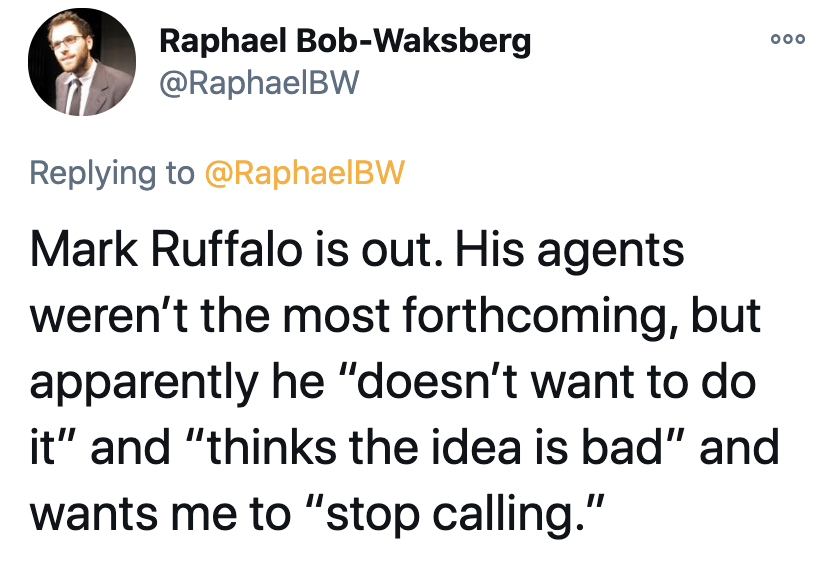 17.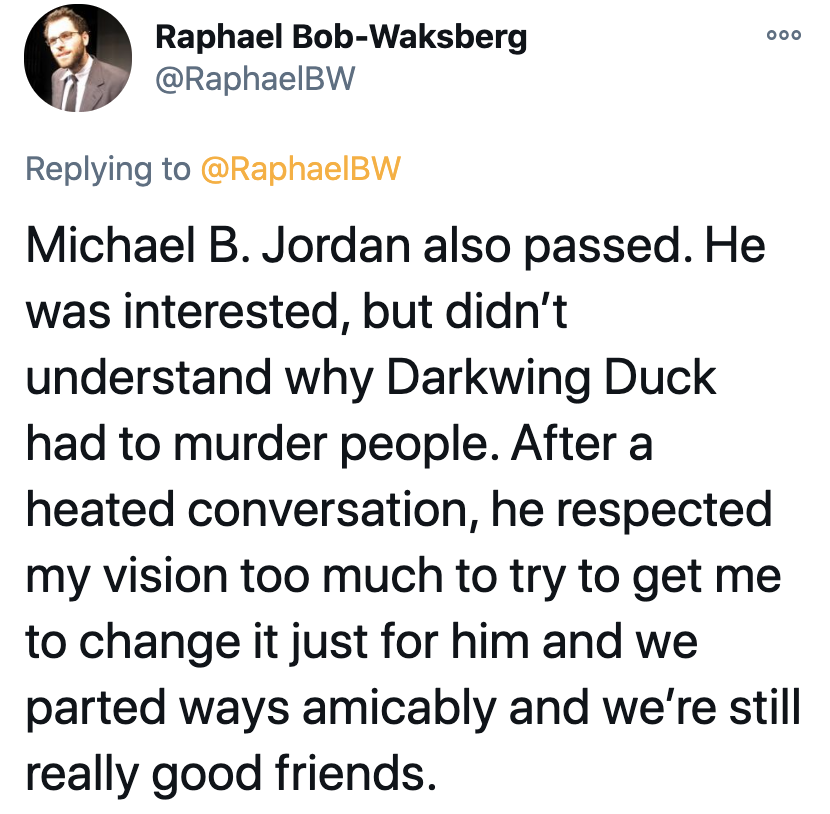 18. I myself had a question about casting: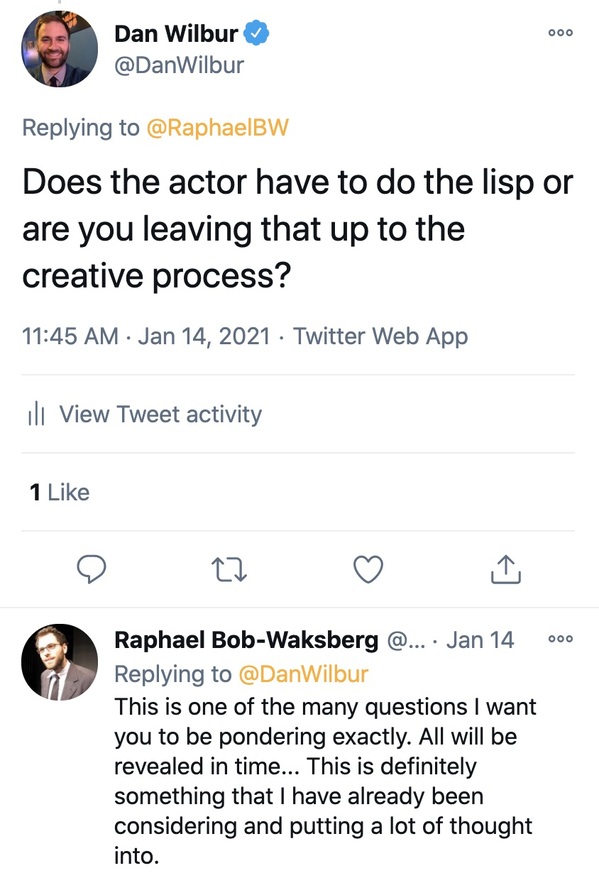 I asked Mr. Bob-Waksberg if there were any other Disney properties he was planning to reboot:
RBW: "I do not think other characters would similarly benefit from dark reinterpretations. It's kind of a Darkwing Duck thing. Taking an existing character and reinterpreting it in a new violent way is MY idea and if anyone else does it, it will feel derivative of me and my twisted reimagining of the Darkwing Duck mythos."
19.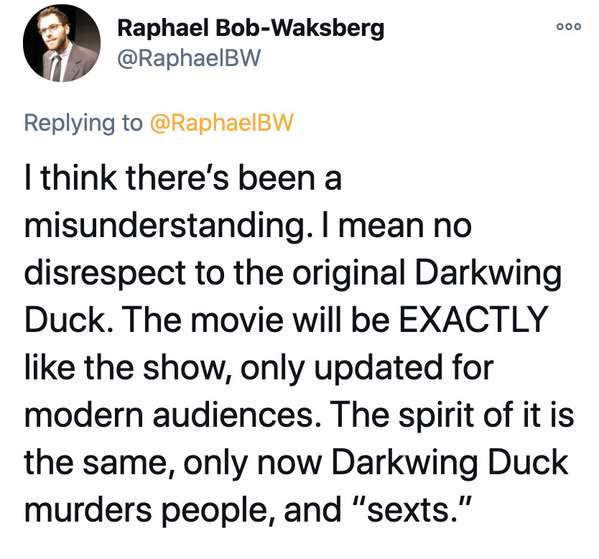 20.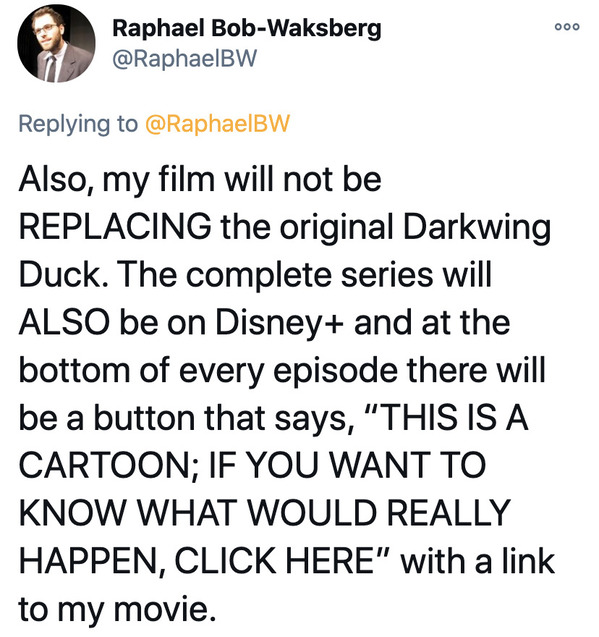 21.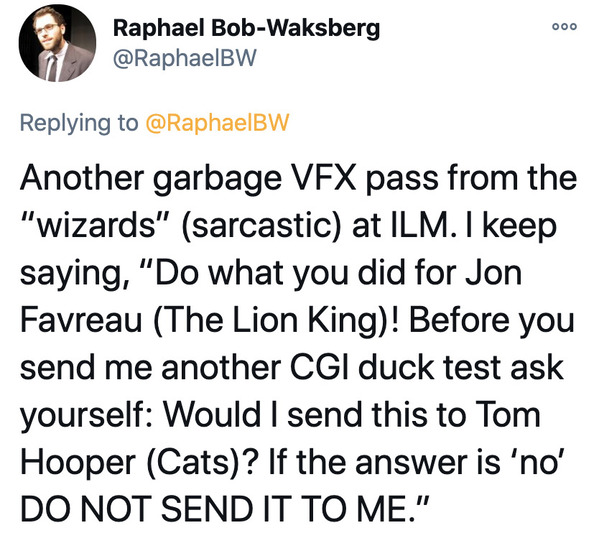 22.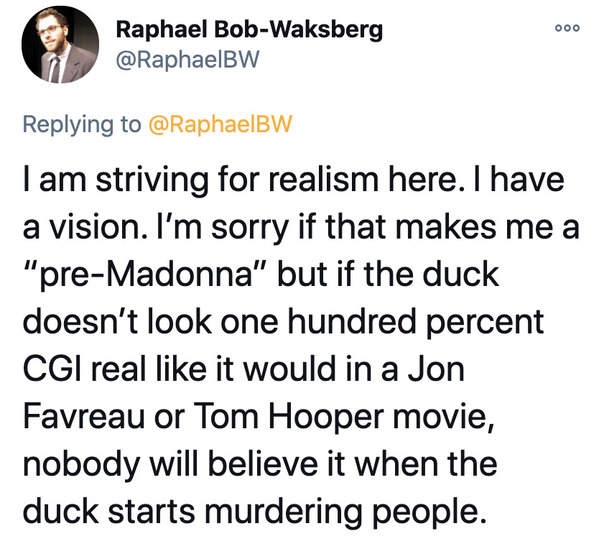 23.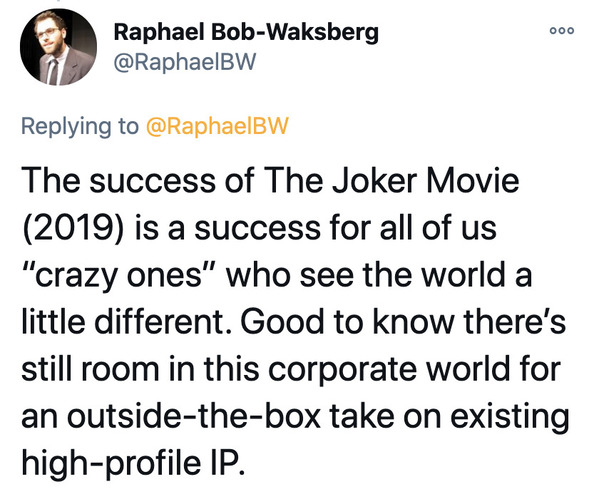 24.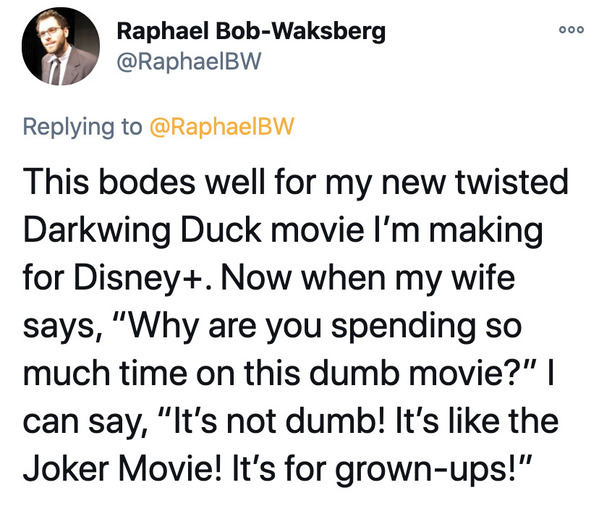 Raphael has a message for anyone trying to steal his idea for making children's content into adults-only movies:
RBW: If anyone is considering doing a gritty reboot right now, I would just really appreciate it if you all took a step back and thought of that as "a Raphael area" and "off-limits to other people," at least for the time being.
25.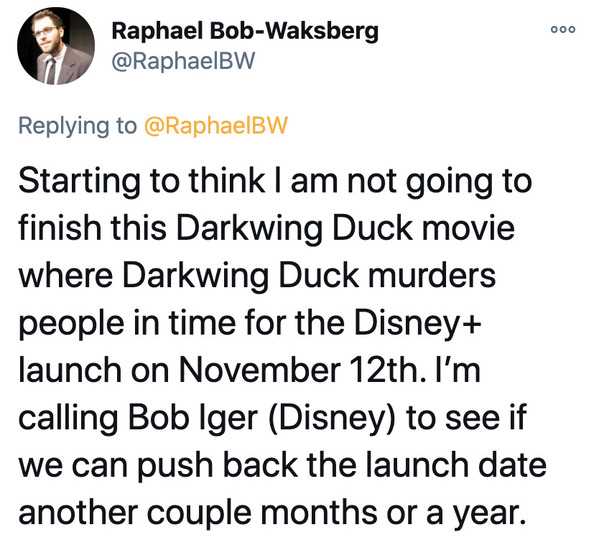 26.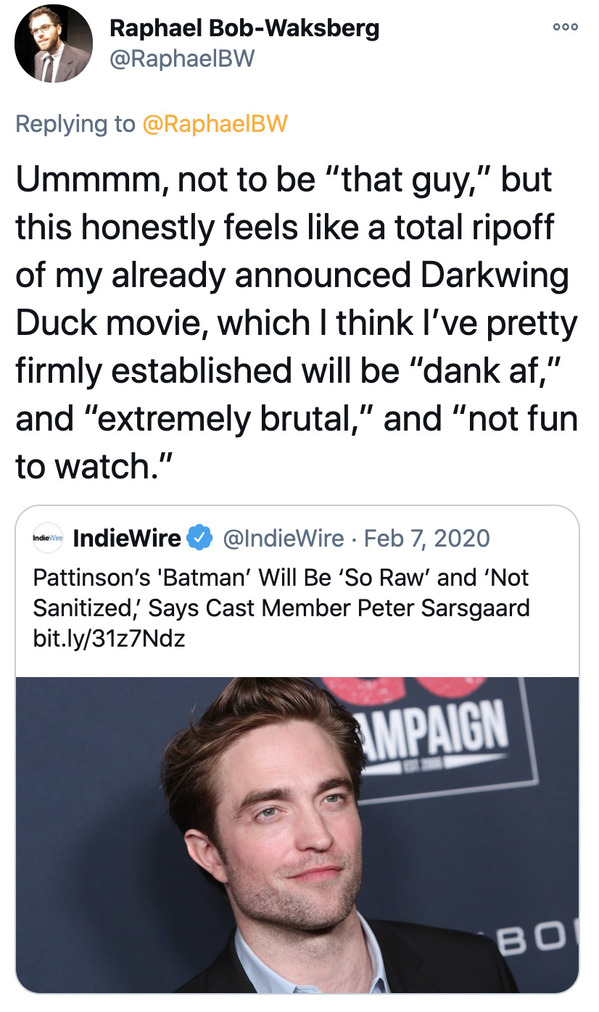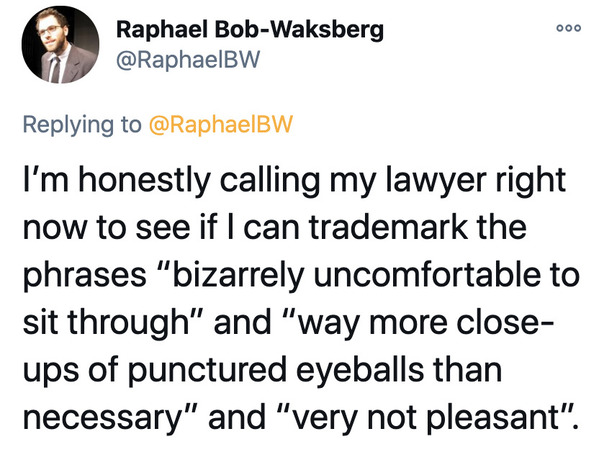 27.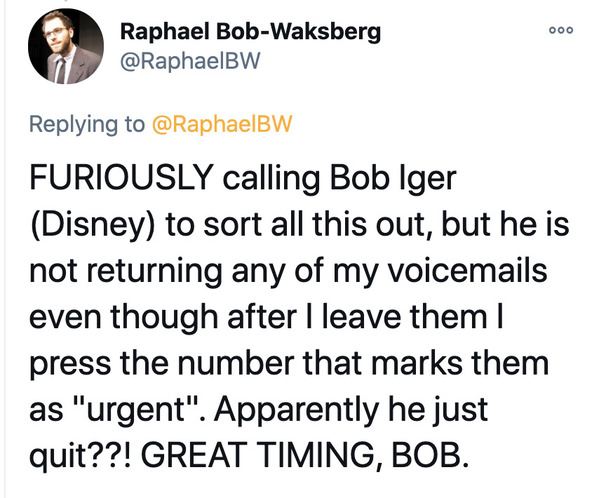 28.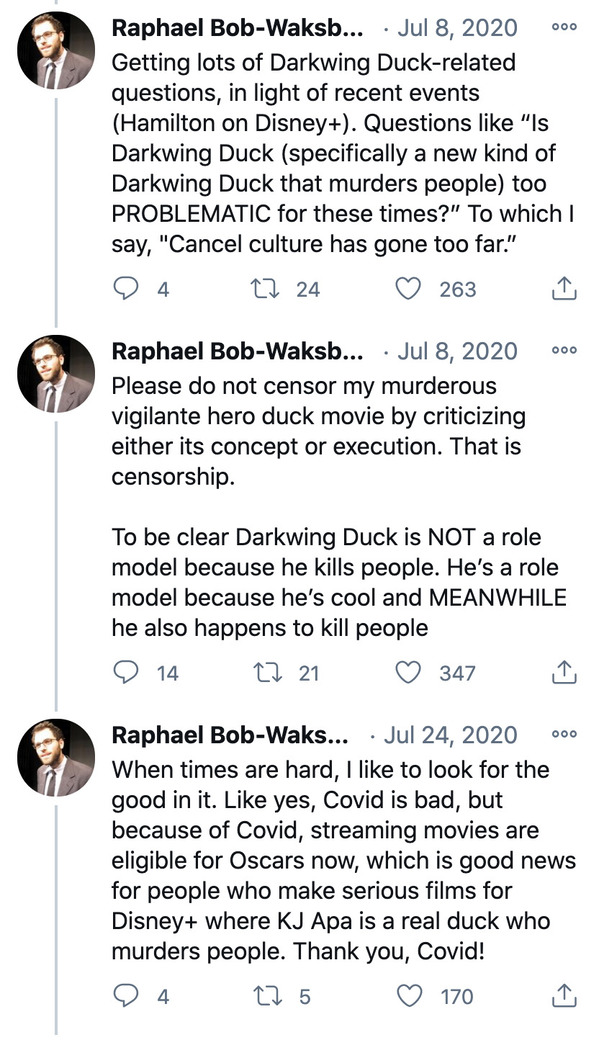 29. Finally, Raphael had this sneak-peek to share: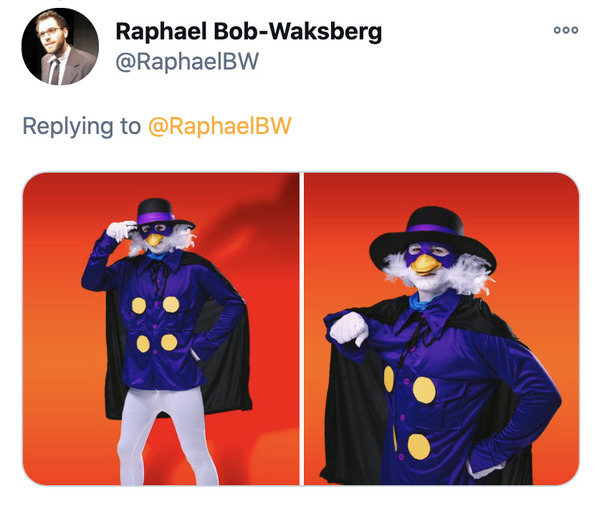 Follow Raphael on Twitter for more details and buy his book!
---
More extremely important news that may or may not be real: