Words are weird. English is one of the hardest languages to learn if you're not a native speaker. That's why it's funny to think there are words in German, Japanese, and Russian that can't be easily parsed by the English language. We need a lot of words where Germans just need one.
I'm certain it cuts both ways. Take, for instance, the word "spam." Spam, as you know, is a canned ham. But, why do we call them "spam emails"? The phrase "spamming" emerged in the early days of the Internet when certified nerds pushed other people's messages off the screen in a chat room or message board by incessantly quoting a 1970 Monty Python sketch about Spam.
See? Imagine you don't speak English, and you see Spam in a grocery store one day. Your head would explode. "They named a food 'bad email'?" you might think.
Well, here are some words and phrases that English can't seem to master, though our language would be better if we adopted them.
The strange and funny foreign words that are untranslatable in English:
---
1. "Treppenwitz" – German
Literally "staircase joke." It means the comeback you should have said in the moment, but it only occurred to you later at home when walking up the stairs. Dang… I should have said, "The Jerk Store called… they're running out of you!" This phrase also exists in French.
2. "Tartle" – Scottish
The hesitation a speaker makes when he or she is about to introduce someone but has forgotten the person's name. It's apparently an onomatopoeia, and you will often hear people say "pardon my tartle" when it happens.
3. "Mencolek" – Indonesian
Meaning to "poke," this word is used to describe the great prank of tapping someone's shoulder while standing on the other side so they turn and look in the other direction. A classic!
4. "iktsuarpok" – Inuit
Literally "go outside and look for someone." It's used to describe the feeling of anticipation when you're waiting for a guest to arrive at your home.
5. "Kummerspeck" – German
6. "Pelinti" – Ghana
To move a hot bite of food around in your mouth. They use this word to describe the sound and action of a piece of food being too hot.
7. "Samar" – Arabic
To enjoy conversation with friends after the sun goes down.
8. "Aspaldiko" – Basque
The ecstatic feeling of catching up with an old friend or loved one. Clearly, any New Yorker on the subway did not come up with this word. We'll catch up later. Not now.
9. "Vybafnout" – Czech
To startle someone by yelling "boo!" How dare you "Vybafnout" me!!!
10. "Gigil" – Filipino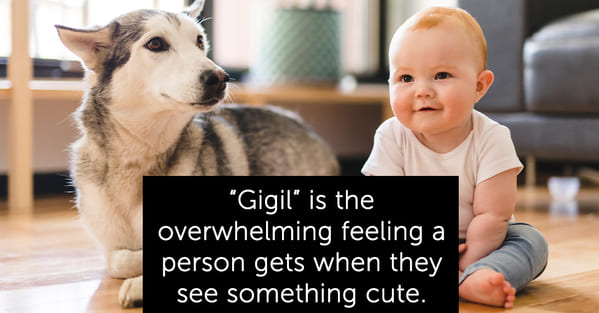 11. "Ghodar-dim" – Bengali
Literally "a horse's egg." It means false hope. Horses don't lay eggs, you see. What are you, an idiot??
12. "Guanxi" – Chinese
It literally means "connections" but it's a word meaning something close to interpersonal karma. You owe people you have deep relationships with a certain amount of time and gifts. Don't spend all of your Guanxi by taking advantage of your friends. That's the idea.
13. "Pena ajena" – Spanish
It is translated as "How embarrassing." It means the vicarious embarrassment you feel for someone else, like when you see me bombing at a comedy club. There's also a German word for it (Fremdschämen) and a slang term in English: "Tartingles."
14. "Lagom" – Sweden
The perfect blend or amount of something. Not too much, not too little, but just right.
15. "Zhaghzhagh" – Persian